BLACKSBURG — The Jamerson Athletic Center was buzzing with activity long before Virginia Tech football players returned to campus at the end of May for the start of their summer conditioning program.
Preparations are underway on the third floor to convert a former dining area into a (much larger) state of the art student-athlete performance center. Offices on the floor are filled with boxes as many athletic department staffers are relocating to make way for the $16.6 million renovations.
Work was simultaneously taking place one floor down on a separate project to transform the hallways and common areas of Tech's football offices.
"I think they wanted to bring some energy," Forty Nine Degrees president Michael McClurg said.
The Ohio-based design and manufacturing company gave the area a major facelift in the space of a week. The hallway walls are now covered with striking images of Virginia Tech players past and present while other "branding and imaging" elements were added to stress the program's core values.
If these walls could talk
Top tier football programs across the country turn to Forty Nine Degrees to upgrade their athletic facilities. The company's client list includes Alabama, Ohio State, Georgia, Clemson and LSU.
The one-stop shop doesn't just add a coat of paint or put in some new flooring. Forty Nine Degrees works with FBS programs to create unique spaces whether it's an arena concourse, weight room or office space.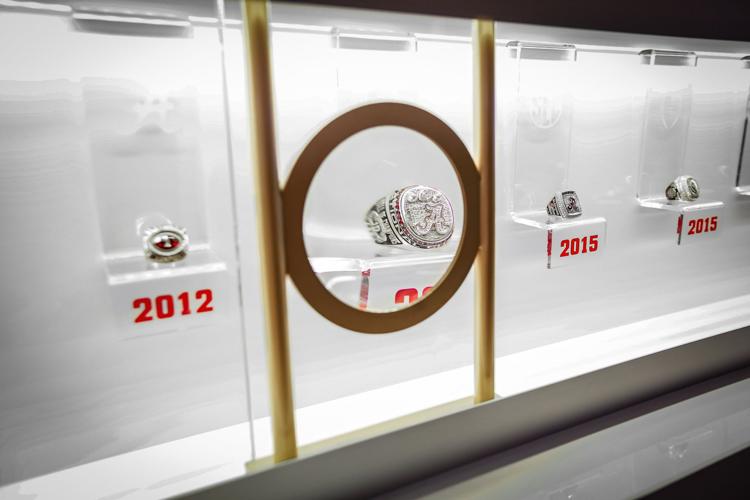 The company developed digital visors inside helmets for a display highlighting Alabama players that went on to the NFL. The company also created a custom ring display with a magnifying glass that allows visitors to see the program's NCAA and SEC championship rings up close.
"Every client we go to we are pretty particular about not ever proposing the same thing," McClurg said. "Each client wants to be unique and they are unique. They have a different story everywhere you go."
The recent work Forty Nine Degrees did for Virginia Tech wasn't quite as expansive, but the Hokies viewed the project as a "major upgrade."
"Often times not only players are around there, but recruits also," McClurg said. "There wasn't an exact storyline. A lot of the projects that we get involved have very specific storylines or messages, but they wanted their core values — trust, loyalty and unity — to be represented and that was our big focus."
While installers were only on campus for a week, six months of work went into the project with designers from Forty Nine Degrees collaborating with Virginia Tech's football operations staff. McClurg said Virginia Tech coach Justin Fuente signed off on the designs as the project came together.
"We were very focused on wall graphics and some dimensional branding components," McClurg said. "There wasn't a ton of outside the box stuff. It was more created to provide energy into the space. We did a couple of sections where we talk about grit and it's acrylic lettering that's back printed with a neat design. There is some canvas wrap graphics with some vinyl wall graphics."
All the components were manufactured in Forty Nine Degrees fabrication shop by the company's two full-time craftsman.
"We take them crazy concepts and they got to figure out how to build whether it's out of wood, metal, plastic or stone," McClurg said, with a laugh.
Forty Nine Degrees' trip to Blacksburg last month wasn't the first time it was on campus. Virginia Tech previously hired the company to work on the athletic department's Beamer-Lawson Indoor Practice Facility and to upgrade Cassell Coliseum's locker room.
McClurg's team is responsible for designing and printing the massive banners inside the indoor practice facility (18-foot-tall by 38-foot-wide). They handled the complete design package for the facility in 2015 providing interior and exterior graphics.
Forty Nine Degrees was back at Virginia Tech two years later renovating the Hokies locker room with then coach Buzz Williams having a strong voice throughout the design process.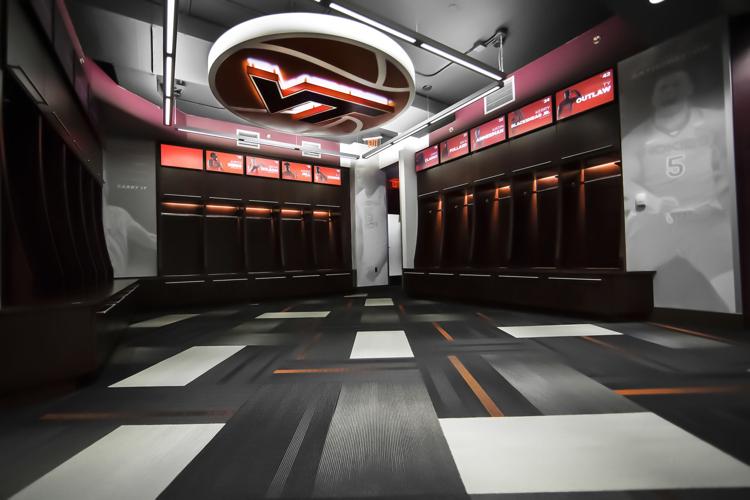 "I'm a huge basketball guy and I studied Buzz a lot," McClurg said. "He's very into values and quotes and reading. There were a lot of words, which is very atypical for that. There was a lot of messaging. A lot of coaching staffs use a locker room area to reinforce their messaging and also show recruits a taste of what's it going to be like. There is obviously some glitz and glamour to it, but experienced coaches look at as something very functional too."
Virginia Tech has a pair of athletic facility upgrades in the pipeline — the student-athlete performance center and a major expansion and renovation to the Merryman Center's weight room.
While Forty Nine Degrees hasn't had any discussions about working with Virginia Tech on those projects, they remain interested in collaborating again in the future.
"All schools have stringent rules with every project, 99.9 percent of them are bid out," McClurg said. "Sometimes they select you based on design, sometimes it can be cost. It's different factors."
The projects will be an important part of the student-athlete experience at Virginia Tech. McClurg underlined why in discussing the trends he's seen across the country with Power 5 schools heavily investing into upgrades for their athletic facilities.
"It really has become about creating a sharable experience," McClurg said. "You go with the mindset, if you didn't take a picture and share it, it didn't happen. That's how these kids think. That's where this whole thing is going. I think it's going to come down to making stuff as neat and unique as possible."