Tears of joy and relief streamed down the faces of George Washington senior captains Ny'rek Wheeler and Shunta Wilson.
Beside them, seniors Nisere Waddell and Tamasjai Reaves, along with junior Kapone Barley, jumped up and down while wiping tears from their red, swollen eyes.
Eagles coach Jermaine Parker threw a towel over his face, raised his head to the sky and pumped his arms.
Emotions abounded for the George Washington boys' basketball team after its 55-44 victory over Louisa County last week inside VCU's Siegel Center, and the Eagles let them flow.
Why not? After all, GW defeated Louisa to capture the program's first Virginia High School League state title in 21 years, its fourth overall and first at the Class 4 level.
The Eagles, after making five VHSL Final Four appearances in the past six years, finally got over the hump and reached the mountaintop.
It was a fitting end to a day in which the Danville community stood up for its hometown team.
Coaches, players and cheerleaders walked down GW's main hallway March 7 to the bus that would take them to Richmond, and they were treated to a parade of students, faculty and staff offering words of encouragement and support.
"It let us know we weren't the only ones that thought we could win," senior Carlos Poole said. "It made us realize the whole school was behind us and felt 100 percent we could win as well. Seeing the reaction from our school, school system and city let us know they felt like we could win and that only gave us more confidence."
Let's take a trip down GW's Yellow Brick Road.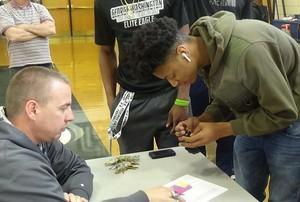 Region 4D quarterfinals against Pulaski
Pulaski made the two-hour trip down to Danville with the goal of knocking off top-seeded GW. For the opening four minutes of the contest, the Cougars appeared to have the chops to do just that with a pair of leads early in the game.
However, looks were deceiving as the Eagles used Pulaski's hot start as fuel to their fire, responding by lighting the Cougars up with their quick, athletic defense.
"We're all hard workers and we know offense comes and goes, but defense is what wins championships," said junior Taevon Walden. "So, we know our defense is what gives us an advantage and we tried to use our abilities to chip on the defensive end of the court."
GW's defense stifled Pulaski and its efforts led to a 7-0 run to end the quarter and a 16-10 lead at the end of the opening eight minutes. Staying true to their rule-of-thumb this season, the Eagles kept their feet on the pedal in the second quarter, starting the frame on a 10-2 run thanks to the efforts of Wheeler and Wilson.
"These guys, they're slow starters. It's like they've got to get cranked up and after that, they're going and going," Parker said. "Our fans don't like a slow start and everybody kept asking me after that game how I remained so calm. But I told them I knew they were going to come around. We had been watching a lot of film against Pulaski and had focused in on a few of their star players and they really didn't play that much, which threw us off a bit.
"We started to play down a bit. But I didn't fuss, and I told them at halftime they better not come back down to our locker room with their heads in their jerseys crying because they didn't leave it all on the court. At that point, I knew they were really going to start turning it up and they proved me right."
Ten players made appearances off the bench for the Eagles, and each of them made contributions in their own ways, either draining some buckets, recording some steals or hustling for rebounds.
Junior Wesley Graves was one of those players. He scored eight points off the bench, including a pair of the long-range 3-pointers that sparked GW in the third quarter.
Graves, a man of few words, had this to say about his performance: "Just shoot. And make sure your form is good when you do."
Barley scored 16 points against Pulaski and is the only three-year member of the squad. He saw plenty from the Eagles' reserves watching them perform on JV.
"I wasn't surprised by their contributions off the bench at all," Barley said. "I remember watching those guys on JV and thinking, 'Wow, they've really got something special here.' So, I always knew that whenever coach [Parker] went to the bench, there was going to be very little drop off."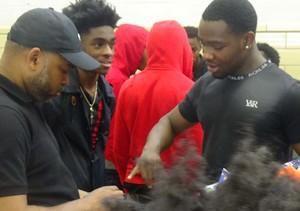 Region 4D semifinals against E.C. Glass
It's no secret. GW and E.C. Glass aren't very fond of each other.
Basketball. Baseball. Football. ACE Club. It doesn't matter. When the Eagles and Hilltoppers square off in competition, things are bound to get intense.
So, it shouldn't have been a surprise when it was announced the two schools were meeting each other in the region semis, the game quickly became one of the most hyped in the area.
However, the contest didn't live up to the hype — at least from the competitive standpoint — as the Eagles steamrolled the Hilltoppers in an 86-47 win that sent GW to the regional finals and guaranteed the program's sixth state tournament bid in seven years.
Once again, the Eagles' ferocious defense played the starring role against Glass as GW recorded 14 steals, leading to a plethora of fastbreak buckets and even a few dunks.
There's something different about players from New York. It doesn't matter whether they come from the city or one of the state's more outlying areas. They all possess a mental toughness and mental agility that's not always seen at any stage, but especially at the high school level, and they are very emotional and passionate athletes.
Wheeler, who hails from New York, is one of those examples. The senior captain used his passion and emotion all season to lead the Eagles, and the contest against Glass was just another example.
"What can I say? I'm not going to say that in New York they aren't as aggressive as they are around here because it's very aggressive down here, but the one thing they have in New York that you don't really see players having around here is swag," Wheeler said. "The differences in the game. But being down here has really made me a better player. Coach [Parker] changed my game and made me understand what basketball really is.
"Playing for him made me a smarter player and made me learn my spot on the court and what I was meant to be doing out there in my spot."
While the Eagles weren't recording swipes, they were swatting away Hilltoppers' shots. GW recorded five blocks in the opening five minutes, limiting Glass's potent inside game. Barley and Wilson were responsible for terrorizing the Hilltoppers as they each recorded a pair of blocks in that stretch.
"That was a tough game because you can shut down some of their star players but that doesn't mean they can't turn to a whole host of other guys," Wilson said. "It was like going back-and-forth. They've got talents I don't know about and I have talents they don't know about. But it was good battling those kinds of teams because they made us better players."
With its inside game struggling, Glass turned to its outside game, putting the ball in the hands of Rayvon Graham who knocked down a pair of 3-pointers that gave the Hilltoppers a three-point lead early in the first period.
The second quarter belonged to GW, though, as it outscored Glass 24-6 in the frame. Walden and Carlos Poole each played starring roles in the frame as Walden's trey and Poole's turnaround jumper put the Eagles in front, 27-14, with six minutes left in the quarter. The Eagles put the game out of reach with a string of 14 consecutive points to end the third and led 46-18 heading into the final frame.
"I really felt there were times in that game where we were in the zone and couldn't do a whole lot wrong," Poole said. "When this team sparked this season and really came together, we were almost unstoppable. There's not really a whole lot other teams could do to stop us."
Region 4D finals against Jefferson Forest
GW entered its regional championship contest against Jefferson Forest with a chip on its shoulder. The Cavaliers prematurely ended the Eagles' season a year earlier, handing GW a narrow two-point loss in the region semis, and GW came in looking for a little revenge against the Cavaliers.
Unfortunately, déjà vu was the Eagles' theme as JF overcame a late deficit and clinched the Region 4D championship with a 61-54 overtime victory.
"We weren't really sad when we walked back into the locker room after that loss," Poole said. "It was like the loss made us hungrier and made us even more ready to play the next game. It made us want to get back to work, come together as a team and keep fighting for our goal together."
Wheeler added, "The next day in practice, we still came out and played like we were the number one team in the state, which we still were. We got on the floor, played dirty in practice and played that practice like we were playing in the championship game. We had the mindset of still doing what we knew we had to do and that game was done and we had to get focused on the next one."
Parker, on the other hand, took the loss a little more personally.
"I was kind of upset about the loss because I felt like we should've beat JF," Parker said. "I felt like the guys kind of underperformed a bit and got a bit too caught up in playing for the crowd, which I always tell them not to do."
However, Parker soon received a few phone calls that changed his mind. Former GW coach Chris Carter, who was at the helm for the Eagles' last state title in 1998, gave Parker a buzz the night of GW's loss in the regional finals and provided him with some valuable information.
"Coach [Carter] called me that night and I was a little upset," Parker said. "He told me about his only loss during the 1998 season came in the regional championship, and he told me about how the team bounced back and won every game in the states by at least 20 points, so that really motivated me and re-energized me."
If that wasn't enough, former Carter assistant, Garrett Dillard, who coached the '98 title team with Carter, reached out as well with another poignant message.
"Coach [Dillard] called me and made me promise him I would let the seniors go out there and win a title," Parker said. "That motivated me, which was needed, because the guys play and feed off my energy. And that boosted my energy level and I kept telling them every day in practice that I was sure they were going to win the game and win the title and it motivated them and they did it."
Class 4 state quarterfinals at Riverside
With two seconds remaining in overtime, GW got the ball into the hands of Barley at the top of the key. As the final seconds expired and with the game tied at 62, Barley launched a 3-pointer that swished through the net, giving the Eagles a three-point lead.
There was a little confusion as fans stormed the court, celebrating GW's win, but it was determined Riverside called a timeout and two seconds were put back on the clock.
After matters were cleared, Riverside got the ball back for one more chance to tie, but its half-court attempt came nowhere close to the rim, lifting the Eagles to a thrilling 65-62 victory.
Barley's 3 silenced a pro-Rams crowd that made it its mission to make life as hard as possible on GW. Needless to say, they failed.
"Nothing was going through my mind really," Barley said. "It really wasn't that bad. Coach [Parker] always tells us not to play for the crowd so you just go out there and just play basketball. It's only a game and one I've played my entire life so I just wanted to go out and put the ball through the hoop, win the game, and move on to the next round."
The frantic finish was a perfect end to a game that featured more drama than a soap opera.
The Rams' Brett Asbury knotted the score at 55 with a pair of free throws in the final seconds. GW quickly got the ball back down the court, but a flurry of layups and close-range jumpers didn't fall, allowing Riverside to force the extra period.
Unlike the JF game, though, the Eagles prevailed in overtime and thoughts of a title run being fated popped into GW's heads.
"I had no doubt in my mind that we would be at the dance and that we would be dancing after the title game was over," Parker said. "When we got back on the bus after the game, I told the guys, 'OK, there are only two games left. Let's go out and make this dream a reality.'"
Meanwhile, a couple of hours down the road, Jefferson Forest had just put the finishing touches on Loudon County, setting up a re-match of the Region 4D finals.
"I told coach [Cam Shepherd] after the JF loss that we would see him again," Parker said. "Those were my exact words and that's all I really said."
Class 4 state semifinals at Jefferson Forest
The tears flowed freely down Wheeler's cheek after GW's state semifinal matchup against Jefferson Forest at the University of Lynchburg.
His emotions only made sense. After all, the Eagles just manhandled the Cavaliers in a 53-38 victory that not only sent GW to the state championship game, but also helped it exact a little revenge over JF on its recent string of victories over the Eagles.
"That game was so big, not only for the team, but me as well," Wheeler said. "It was kind of personal for me because I had played AAU ball against them for about six or seven years and maybe beat them once. So, to steal a win against them that put is in states was really awesome."
GW came storming out of the gate earlier against JF, opening up a 17-6 lead at the end of the first quarter.
It seemed as history might repeat itself as the Cavaliers battled back in the second quarter, outscoring the Eagles 14-7 in the frame to close their gap to 24-20 at the break.
However, the Eagles kept their talons out and cruised in the second half of their 15-point victory over the Cavaliers that sent GW to the state finals with an abundance of confidence and swag.
"I don't think any of us wanted history to repeat itself against JF and have us lose that game," Barley said. "We all had the mindset of breaking the cycle of losing in the Final Four that GW has experienced over the past few years. We had played them twice and they ended our season last year and we couldn't let them beat us three times in a row. We knew if we beat them, it was ring time and we went out there and got it done and took care of business."
The big difference in the re-match was the Eagles' decision to switch to a 3-1-1 zone defense, which slowed down the Cavaliers' potent inside game. That decision, combined with GW not playing to JF's pace, were keys in the victory.
"The game that we lost to them earlier in the season and last year, we would've won if we had just slowed down a bit at the end," Walden said. "So, we slowed things down in the second half, made our adjustments and played our style of basketball. Those were all things we'd never really done against them up to that point."
Class 4 state championship against Louisa
Danville needed something big. It needed something special. Something it could hang its hat on.
GW knew they had the talent and heart to bring the city a title and it did just that, fighting off a talented Louisa team in the second half on its way to bringing a title back home to Danville for the first time in 21 years.
At the beginning of the season, Wilson spoke about the Eagles feeling like they had let the city and community down last year after their premature exit against JF in the Region 4D semis.
Those feelings were nowhere to be found in the final seconds of the Eagles' contest against the Lions as Reaves dished off one final pass to senior Cadrein Cunningham as the buzzer sounded and GW rushed the court in celebration, while the pro-GW crowd erupted in the stands.
"It was an emotion moment for sure," Wheeler said. "There were tears of joy. There were tears of disbelief. There were tears of relief. We had actually done something no boys' basketball team had done at GW in 21 years and to say our group was the one to do it was really awesome."
For Poole, who also starred at quarterback for GW's football team, it was a strange moment.
"A state championship is something I've wanted since I started playing sports," Poole said. "When the clock ticked down to zero and we won, it was a really surreal moment. It was hard to believe it had actually happened. It was almost kind of awkward."
Louisa took its first lead of the game, 32-31, with less than three minutes left in the game. The Lions, after falling behind by nine at the start of the third, strung together a 10-0 run that helped them take the brief lead.
GW, though, knew how close it was to accomplishing the goal it set at the beginning of the season, and countered with a 7-0 run that helped it close the quarter with a 38-32 lead — one the Eagles didn't relinquish the rest of the contest.
"We knew we had reached the state final game and were only eight minutes away from winning the title and we knew there wasn't any backing down now," Barley said. "We knew we still had what it took to win and we never let up from that point and proved we were the best team in the state."
For GW, the deciding factors in the game were teamwork and patience. Running a 1-4 set, the Eagles spread the ball around the court with crisp clean passes on the corners. At times against the Lions, GW looked like one of Dean Smith's UNC teams from the 90s as it perfected the triangle offense.
Of course, the Eagles' teamwork shouldn't have been surprising.
Making GW's state-title run even more special was the fact a majority of the players were part of a Eagles' JV squad — led by Parker — that ran the table in a 22-0 season just a few years ago. In all, nine seniors — including four-fifths of this year's starting lineup — were members of that special JV squad. And as the final seconds ticked down on GW's win, those players shared one final moment of triumph together.
"It was a really special feeling and a legendary moment and to get to experience it with my family made it even better," Wilson said.
For Wheeler, the excitement of the title was found in making a bit of history with the guys he loves like brothers.
"It was a very exciting moment for us because it hadn't happened in 21 years," Wheeler said. "So, for me, for something like this to happen, it's very heartwarming. You don't always get to move somewhere and join a group of talented guys like this so to get to experience this triumph and excitement with these guys, my family, is an amazing moment."
Family affair
Even more impressive than the state title was the way GW won it, always showing the highest levels of class and character in both wins and losses on and off the court and in the classroom and community.
"Our parents have been there every step of the way," Wilson said. "They've always worked with us and helped us develop into the young men we are today."
Barley added, "Our families have really been there to support and encourage us and just not in basketball, but outside of basketball as well. They've really helped mold us and have always encouraged us to be others can look up to in the community. They've really taught us and helped us to become the best men we can be."
Parker, this past August, lost his dad — Warner — to lung cancer. He was a formidable influence in Parker's life and his death left him shaken and wondering whether or not he could carry on with coaching.
"He always told me I could accomplish anything I wanted to accomplish if I just went for it," Parker said. "I would talk and joke around with him about basketball and he'd always joke that he was better than me, but I told him I had a goal for these guys this season, and I'm sad to say he's not here to see it, but I did this for my dad and for all these guys. I told them in a group chat they didn't know how much they meant to be and how much they kept me motivated because I was going to quit after he died."
"But I looked at these guys every day and said if I quit, I'm letting them down and I'm letting my dad down, so all of that really made me stay and got me through it. And now, eight months later, they're not only a championship team, but championship guys as well."