Wednesday morning update: Dorian is still on track to bring high winds, heavy rain, flooding and storm surge to the coastline of North Carolina and Virginia on Thursday and Friday while its western edge grazes central Virginia.
As of 8 a.m. Wednesday, the National Hurricane Center says that Dorian is 95 miles east-northeast of Daytona Beach, Fla., with sustained winds of 105 mph. The eye is moving north-northwest at 8 mph, and it will continue to parallel the Florida coastline throughout the day before turning northeasterly near South Carolina on Thursday.
The high clouds visible off to the south of Richmond this morning are the northern edge of Dorian. The nearest rain is in southeastern North Carolina, though it could take until late Thursday for us to see wet weather arrive. More on the forecast below.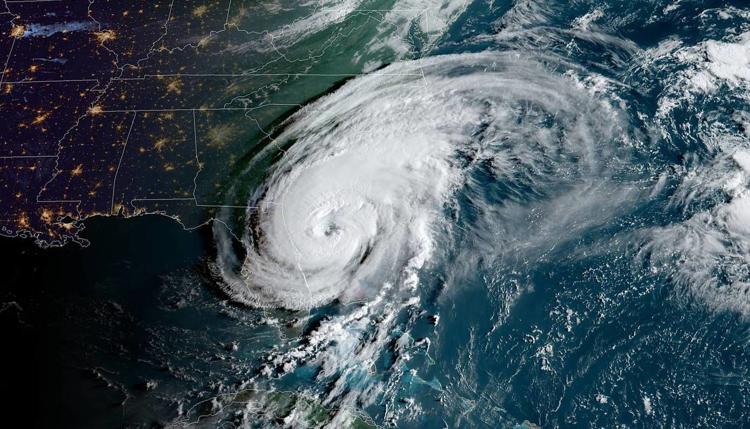 Storm surge warnings are in effect from Sebastian Inlet, Fla., to Surf City, N.C., with some areas between expecting surge up to 8 feet deep.
Storm surge watches (the precursor to a warning) extend northward to Hampton Roads and the lower James River, including the sounds and tidal rivers of North Carolina.
Hurricane warnings are posted for much of Florida's northeast coast, and from the Savannah River to Surf City, N.C.
A hurricane watch now extends from Surf City to the North Carolina-Virginia border, including the Albemarle Sound and Pamlico Sound. Those watches will probably be upgraded to a warning later today.
A tropical storm watch is also posted for eastern Virginia from the North Carolina border to Chincoteague, and south of Smith Point in the Chesapeake Bay.
Look for updates to this story later today and throughout the week.
Tuesday evening forecast discussion
Dorian's wind field will keep expanding as the storm moves north. That will allow gusty conditions to be felt in central Virginia, though the risk of damaging wind is more of a concern for the Tidewater region and points south.
The future path of the storm is mostly settled, but there's a margin of error related to its speed and timing as it heads northeast and parallels the Carolina coast.
A slower Dorian could keep rain and wind in the region through Friday evening, while a faster storm will clear out on Friday morning.
There's also the question of where the western edge of Dorian's rain will be located within central Virginia.
For metro Richmond, rain chances will increase gradually on Thursday, peak on Thursday night, then taper off on Friday.
There's a potential for a sharp gradient in totals across the region, with very little west of Richmond but several inches in Hampton Roads.
Most scenarios bring Richmond less than 2 inches of rain, however.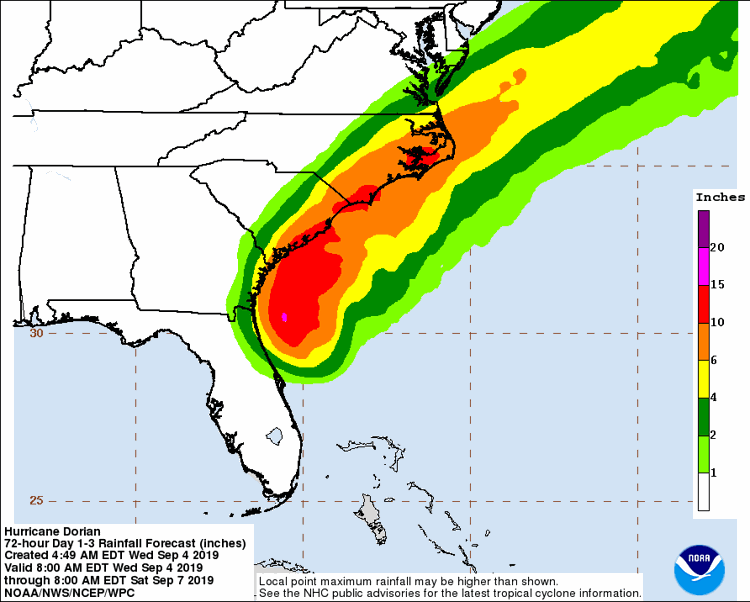 A northerly breeze will become more noticeable in Richmond on Thursday night, with some gusts to 25 or 30 mph.
A reasonable high-end scenario could bring some gusts to 40 or 45 mph as far west as Interstate 95 on Friday morning, though the forecast is subject to change in the coming days.
Tidewater can expect sustained tropical storm conditions, with a possibility of gusts to 60 mph along the Atlantic.