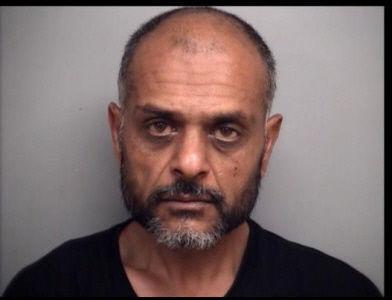 RIDGEWAY — A tactical unit from the Henry County Sheriff's Office battered its way into a room at the King's Court Hotel on Friday afternoon and arrested a man who had taken a hostage and barricaded himself in the room for several hours.
U.S. Immigration and Customs Enforcement and the U.S. Marshals Service were attempting to serve administrative immigration paperwork on the resident manager of the hotel when he became uncooperative and began to barricade himself in his quarters.
They learned he had taken the woman hostage and called the sheriff's office. The woman later was released unharmed.
After an arrest warrant and a search warrant were obtained at about 3:45 p.m., the SWAT team entered the motel through its unlocked front door. Deputies then used a ram to enter the portion of the motel that is the manager's residence, where they found Ravindra H. Patel, 50, in a rear closet.
"Once he was discovered, he was taken into custody without further incident," Sheriff's Capt. Wayne Davis said. The whole incident took about five minutes.
Patel, whose address was listed as the same as the motel's, 6570 Greensboro Road, was charged with abduction (felony) and obstruction of justice (misdemeanor). He is currently held in the Henry County Jail without bond.
At least one machete was found in Patel's residence, Davis said. A release from the sheriff's office does not specify any weapons having been recovered.
The woman Patel is accused of abducting shares his residence. Davis wouldn't reveal her name or any additional information about her.
The standoff lasted about 4 ½ hours. Davis said the hotel was evacuated (he estimated about 10 people), and the sheriff's office brought in its armored rescue vehicle. Traffic also was stopped on U.S. 220 while the SWAT team was conducting its operation.
No shots were fired and there were no injuries. Two dogs on the scene were removed without incident.
The strip hotel on Greensboro Road was cordoned off by yellow crime tape, and a variety of tactical vehicles were in the parking lot from just before noon. Traffic for most of the day proceeded unimpeded on U.S. 220, but the general public was kept at a distance.
The motel was the site of two earlier drug-related search warrants executed by the sheriff's office, but the actions on Friday were not related to drugs, Davis said.
Henry County Sheriff Lane Perry said the situation escalated between 11:30 and 11:45 a.m. when his office was notified of the hostage situation.
"When he took the woman, and she couldn't leave, now we have an abduction," Perry said. "That's when we came down with the concerns, we want to get him out safely, but now you have someone against their free that is inside, but she was able to get out safely.
"The person went back into the hotel, wouldn't come out. As they [agents] were trying to work with the individual, we get communications that a woman is now inside with him and can't leave of her own free will. We responded."
Perry said there were various communications when Patel would come to the window, when he confirmed the woman was inside.
"Then he wouldn't come to the window anymore. She would come and said, she actually even held up a note at one point that said, 'I'm scared. He has a gun.' But she wouldn't come out."
Perry said agents were within minutes of forcing their way into the room when she emerged and sought safety. He said she didn't need medical attention to his knowledge and that she was being interviewed by investigators.
"We had periodic attempts to communicate through the PA," Perry said. "We've tried his cell phone. … Our foremost concern is we want everyone to be safe. We don't want to harm anyone and we do not want to be harmed."
Perry also had said he was concerned because there were two dogs belonging to the hotel in the room with the suspect.
"We don't want to harm the animals, but we also don't want our officers aggressively hurt by protective dogs," he said.
Other than residents of the motel, Perry said he didn't know if anyone in the area had to be evacuated. He said that customers at Clarence's Seafood Restaurant next door were asked "not to work on this end" of the grounds. One guest reported that they were asked to leave by a rear entrance.
"We did make a sweep of what [hotel] rooms we could efficiently," he said. "We don't know 100 percent that we've hit every room, but we are watching and making sure."
The Sheriff's Office was assisted by Martinsville Police Department. Other agencies that were responded were Henry County Public Safety, Ridgeway Fire Department, Ridgeway Rescue Squad and Virginia State Police, which handled the traffic interruption on U.S. 220.