On the sidelines of the basketball court, Harry Johnson was as good as anybody.
But to limit his impact to just a sport would be to damn him with faint praise.
In the Danville community — and in the lives of so many — he was as good as anybody.
Johnson died at his home Wednesday at the age of 81, leaving behind a host of friends and family members, former players and coaching colleagues.
To hear them tell stories of Johnson is to hear about the golden age of boys basketball at George Washington High School. But among the retelling of games won and lost — mostly won — are more personal memories of inspiration offered, guidance given and lessons learned.
Johnson is publicly remembered as the steward of GW's boys basketball program for 19 years, a time in which he amassed 348 wins, 14 regular season district championships, eight district tournament titles and three trips to the Virginia High School League semifinal round. He retired from coaching after the 1995-96 team went 28-0 and won the school's first boys basketball championship since 1933.
A basketball coach with few equals, Johnson's work in the community and with his players away from the court is also unmatched.
The team that changed DanvilleJohnson coached competitive teams during his first 18 seasons, but the 1996 team was his best work.
Players from that era recall sold-out gyms on the road — visiting fans from other small towns hoping to get a glimpse of what was quickly becoming the most dominant team in the state.
GW ultimately defeated Hopewell 73-71 in the VHSL Group AAA championship and finished the year ranked No. 4 in the country by USA Today.
"And the only teams ranked higher than us were prep schools," said Marques Cunningham, a sophomore that season. "Any team that we would have played, I have no doubt we would have beat."
Howard Graves, a senior in 1996, said the state championship was the last thing Johnson had to accomplish to solidify his legacy.
"I really think it was the culmination of all of his work," said Graves, who went on to play at Concord University and King University. "Each year, we would be in contention, but things wouldn't always fall together. By the time I was ready to graduate and him to retire, he had run the same type of defense forever. If you played JV, you played press, full-court, man-to-man defense. We had done that for years. The timing for that [title] was everything falling into place."
The championship had a tangible effect on the entire city.
"During that period of time, GW basketball had taken over the town," said Cunningham, who went on to play at University of Richmond and Longwood University. "We were winning, we had good teams, but during that time, everybody in Virginia — not just Danville, but everybody in Virginia — knew that that '95-'96 team was special."
The Eagles' title was the exclamation point on a storied coaching career. Johnson's retirement ushered in a new era of GW basketball under head coach Christopher Carter, who would lead the team to another state championship in 1998. But Johnson's influence around the program was still felt.
"He was pretty much the pioneer of GW basketball," said Kenneth Harris, who played two years for Carter. "One thing I remember when I was playing varsity, he had retired but he was still coaching us."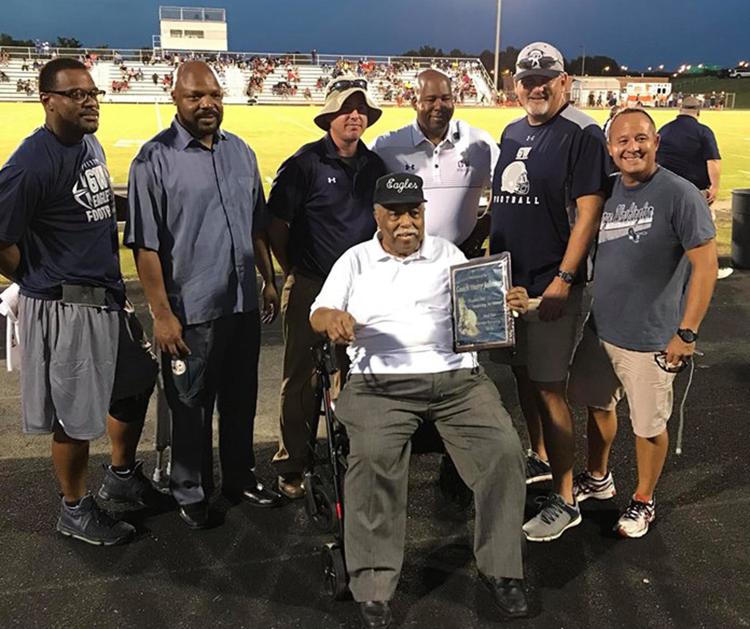 A father figureThere are no scoreboards in the real world, but Johnson's effect on other people made them winners.
A religious man who volunteered his time at Big Brothers Big Sisters, The Boys and Girls Club of America, the Kiwanis Club and Kappa Alpha Psi, Johnson played a prominent role in the Danville community and for people from all walks of life.
"I feel even if he wasn't coaching," Cunningham said, "he probably could have been mayor or someone high up on the city council because he just had that personality and charisma and that heart."
His former coaching associates remember his ability to connect with athletes and non-athletes alike.
"He was a very religious person, and he brought that with him to the gym as well as the classroom," said Dave Brown, who preceded Johnson as head coach. "He was someone they could turn to if they needed support."
Current GW boys basketball coach Jermaine Parker looked to Johnson for advice on how to best run the program when he took the job three years ago.
"There were a lot of things I took on from him in terms of mentoring and being a role model for kids and being able to show love and support," Parker said. "Those are things he did over two decades here."
Harris, now the coach at Green Run High School in Virginia Beach, said he works to instill the same lessons he learned from Johnson into the boys in his own program.
"To always give it your best," Harris said. "Being honest with these kids and telling them the reality of life."
Johnson was described as a father figure by many. He'd drive players to practice sometimes, then run a no-nonsense session of drills and scrimmages before driving players home. He was also present during some of life's pivotal moments.
Antoine Crews, who played just one year of basketball for Johnson in 1991-92, described legal troubles in his life that started in junior high and had him in and out of juvenile detention until he was 18. Johnson served as a character witness during one of Crews' court dates before he even had Crews on his team.
"Coach Johnson was one the of the ones that believed in me. He helped me," Crews said. "When a lot of people turned their back on me, coach Johnson helped me when a lot of people really didn't have faith in me. He did a lot for me when I could have gave up. ... He helped put me on the right path."
Crews was among the players who received the occasional ride to and from practice. Johnson also bought him sneakers and helped him attend basketball camps when Crews couldn't pay to go on his own. Ultimately, Crews secured a scholarship to North Carolina Central, where he played basketball for two seasons.
Crews now points out the irony, given his childhood, that he is now a corrections officer at Dan River Prison Work Farm in Yanceyville, North Carolina.
Crews remembers first meeting Johnson after being picked up on a walk home late at night when he was 14 years old.
"He gave me a ride and told me that people are watching me and that I had potential to be anything I wanted to be," Crews said. "It was amazing that he knew me, and I hadn't even made it to high school at that time. He saw something in me."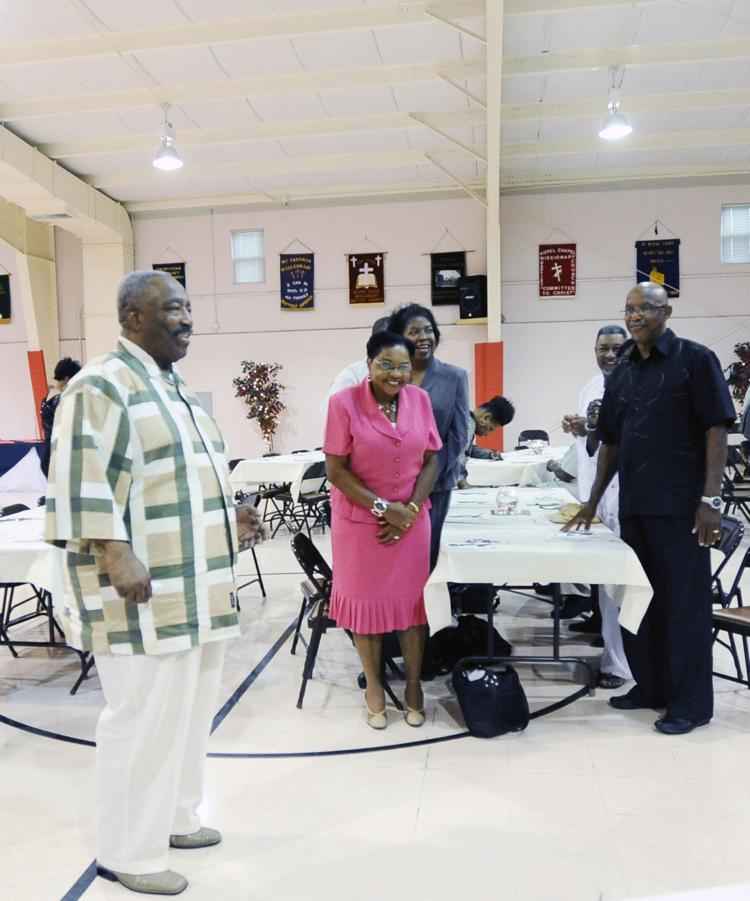 A lasting legacyAny talk of Johnson's life includes how open and welcoming he was. He strove to be an outlet for anybody in need.
"He was a people person. He was loved by everybody," said Garrett Dillard, Johnson's assistant coach for two seasons. "Depending on your age, he was your grandfather, he was your dad, he was your uncle."
Dillard also spoke highly of Johnson's sense of humor. He told the story of a coaching clinic in Tennessee not long after Johnson underwent a medical procedure that called for a light diet post-op. At one dinner, Johnson grabbed one plate and filled it with salad. On top of the salad, he put meat and other vegetables.
"He said, 'You all make sure you tell my wife I only had one plate for dinner,'" Dillard said. "He had the plate, and it was stuffed really high."
Similar anecdotes are sure to endure, sure to be passed around by those who knew him best. In much the same way, his coaching principles will stand the test of time.
"Fast-paced, push the ball and defense wins games. And just continue to have love and passion for our kids at every moment," Parker said. "These [current players] didn't have the opportunity to know him, but it will be something that as long as I'm living will be instilled in them, instilled in every team that comes through here as long as I'm coaching."
In a broader sense, Johnson's life offers lessons to all. His famed press defense will win a lot of basketball games if executed correctly, and being charitable with one's time and love will be remembered for much longer.
"I think he saw himself as a servant," Dillard said. "I really believe that he understood that God blessed him to go to college, play college athletics, and God put him in charge of young men in a community that oftentimes people don't believe in those young men because of where they came from.
"He sacrificed a lot of personal time, family time, to push those guys in the right direction, and basketball and education just so happened to be the avenue that he was able to do that."
Parker Cotton is a sports reporter at the Martinsville Bulletin and Danville Register & Bee. You can reach him at (276) 638-8801 ext. 215. Follow @ByParkerCotton.