William Rice, 19, who works full time as a salesman for Sprint, had been wanting to volunteer as an emergency medical technician for years. After his car slid into a lake and off-duty friends from the Gretna Volunteer Fire and Rescue Department were there to help, he decided to act on that desire.
"I'm really excited to start classes and get certified ... and to be able to help and serve the community too," he said.
While the fire and rescue volunteer force is aging and declining — and funding continues to prove difficult to come by — Pittsylvania County departments still are making improvements, updates and progress to protect their communities. Structural changes and new leadership have led to influxes of youth and helped restore two departments.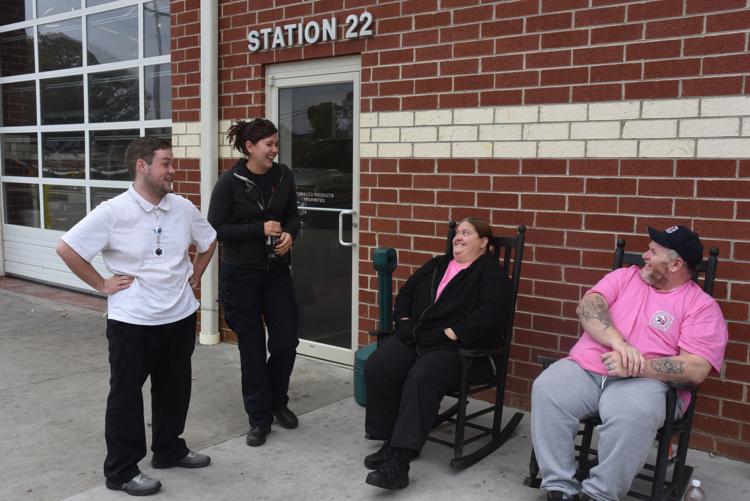 MergerWhile the Gretna Volunteer Fire Department answered 100% of its calls in 2018, right across the street Gretna Rescue only answered 32%, in large part because of a large territory and lack of membership. Many volunteers were running calls for both departments, and each of the two departments often ended up calling the other for assistance.
The underperformance of the rescue department and the interdependence of the two agencies got the leadership to think about more efficient solutions, said Ben Meeks, who now serves as the EMS captain and president of the recently formed Gretna Fire and Rescue.
"Why don't we put them together so that we can better utilize our assets and the manpower that we have?" Meeks said they asked.
"The goal at the end of the day is the same for both agencies," he added.
The two agencies merged forces as Gretna Fire and Rescue in July.
As part of the merger, Gretna Fire and Rescue brought on a full-time paid EMS supervisor who is responsible for manning the department and running calls from 7 a.m. to 3 p.m. Monday through Friday. EMS supervisor Dakota Dillard, 28, keeps up with soft billing and records management, conducts frequent training and runs calls with volunteers as needed.
"I'm kind of the pivot man during the day," he said.
By creating Dillard's position, Gretna Fire and Rescue became the only department in the county to pay a first responder.
Having at least one guaranteed person in the department who can run calls with volunteers has led to a much improved response rate for EMS calls. As of mid-November, the department had answered 78% of EMS calls since the merger and is one of the county leaders in terms of call volume.
Meeks said the department wants to hire another full-time worker soon to man the station during times Dillard can't be there.
The merging has positioned the department to get better funding from grants, attract more help and allow volunteers to cross-train and more efficiently volunteer in both capacities.
"We're always looking at ways to better ourselves … the service has been improved and our goal is to continue to improve it," Meeks said.
ComebackThe Cascade Volunteer Fire Department rarely received calls from the fall of 2018 through the spring of 2019 because the dispatch center knew they didn't have the personnel to respond.
"It was in a rapid decline," said Fire Chief Eric Clark, who took over in March. "We were pretty close to closing the doors."
"We had enough people on our roster, we just didn't have enough people running calls," added 21-year-old Travis Lewis, who first started at the department when he was 16 and now serves as the fire captain.
Throughout the decline, Lewis felt frustrated with the lack of response, especially during 2018. During that time, when he often was working 12-hour days seven days per week, he would still try to take calls at night.
Clark estimates they took as few as five calls the entire year.
"I think everybody just lost sight of what we're in it for," Lewis said.
Clark, who had previously been the fire chief but had stepped down, wanted to rejuvenate what he saw as an apathetic force that wasn't investing the time necessary to respond to any calls.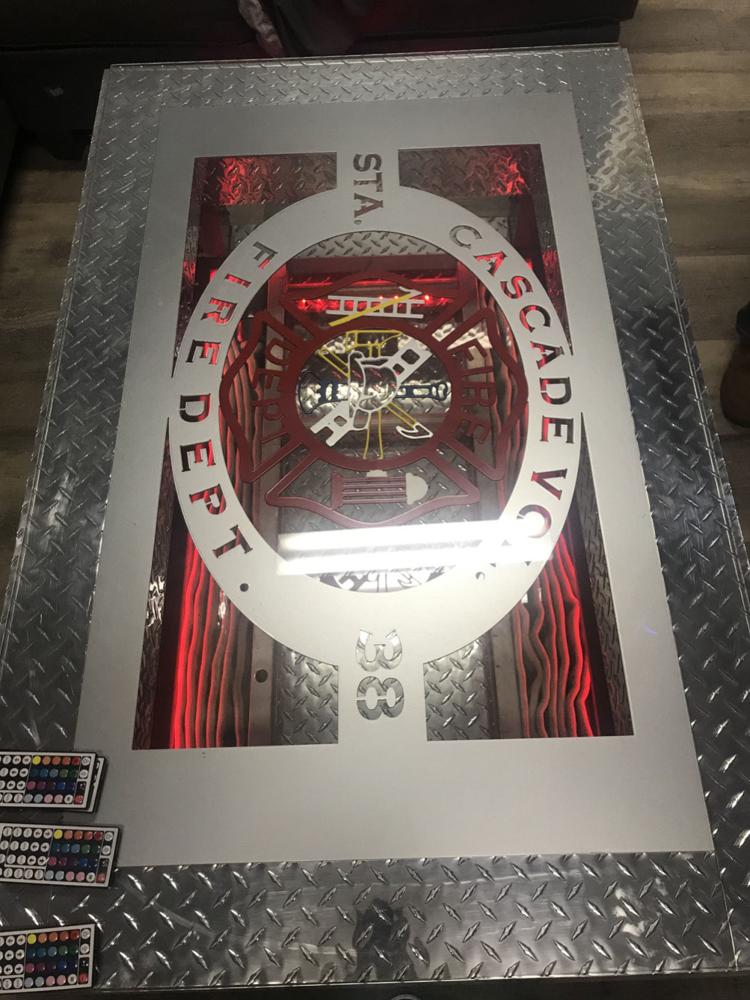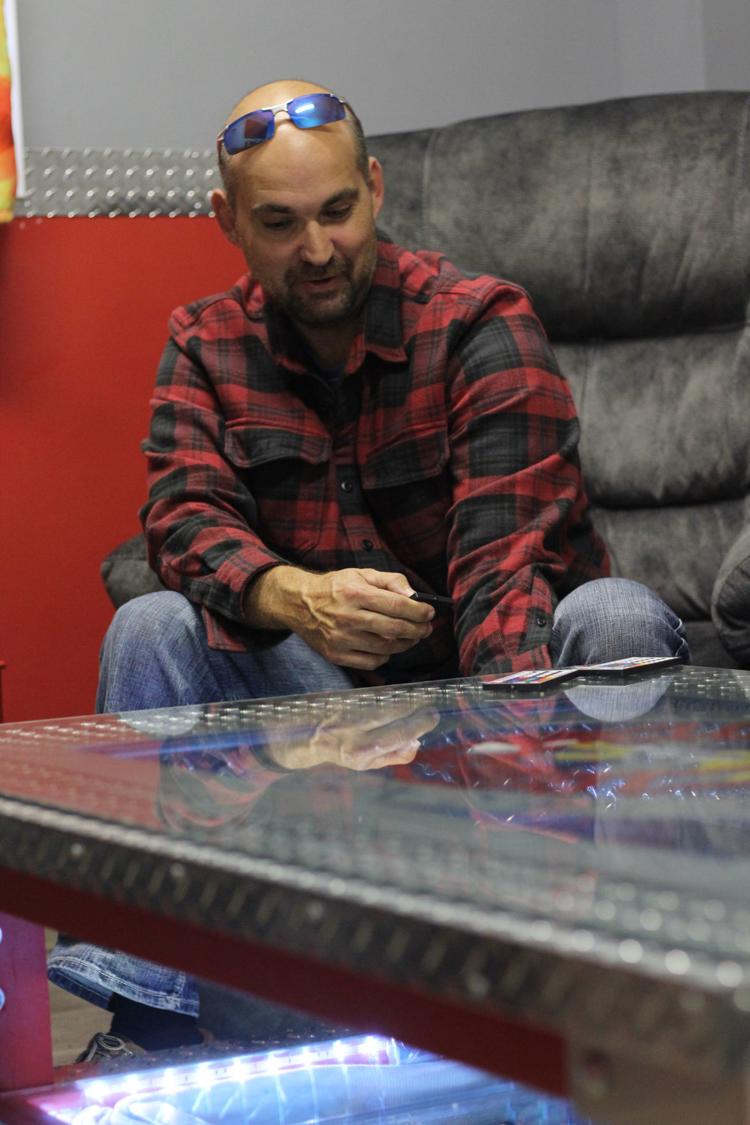 Since he took over, one of the things Clark focused on to restore morale and effectiveness to the department is upgrading the actual building. EMS Capt. Joseph McGuire played a big role in revamping the fireman's lounge, which now has a flat-screen television, video games and comfortable couches, all with the goal of enticing young people to spend more time there.
"We're just trying to do something where [the young people] would want to stay around here," McGuire said.
Much of the furniture for the lounge was donated, but McGuire also spent upward of 80 hours creating a unique coffee table with lots of old fire equipment — including old fire hoses, strobe lights and a ladder.
"I took on this project because I had a vision. And I kind of took it to the next level," McGuire said of the fireman's lounge.
That push for youth has seemingly worked, as Clark said several people in their 20s have joined since March, with other members stepping into more prominent roles. That has allowed the department to take significantly more calls and maintain a near perfect record of call response, Clark said.
With the recent group of younger people who have joined the department, Lewis has plans to serve as a mentor and empower them to get as much on-scene, hands-on experience as possible. Clark said he intentionally asks for everyone's input on issues that affect the department.
"When it comes to overall department decision making, I try to include everyone," Clark said.
YouthGenerally, recruitment of new volunteers falls on the individual stations, but Pittsylvania County recently received $5,000 of marketing and recruiting money that is being used to attract volunteers — especially young people — across the county.
Neither Cascade Volunteer Fire Department's return to actually running calls or Gretna Fire and Rescue's merger would have been as successful without the influx of youth and new volunteers.
"It brings new life to a department," Dillard said.
While the rest of the county is seeing some young people join, Gretna Fire and Rescue has seen a surge in new, young volunteers since the merger. Dillard said the median age in the department is now in the mid-20s.
"Everyone wants to be a part of the new and improved thing," Dillard said.
At Cascade, where there are about 25 volunteers on the roster, Clark said several in their 20s have joined since he took over, in addition to other members participating more and taking more calls.
Clark said it's important the younger generation mixes with the current force to learn the ropes.
"They can see the mistakes and successes that we've had over the years," he said.
Other successful departments, like Mount Hermon, where there are between 15 and 20 regular volunteers younger than the age of 25, are counting on their force of youth to carry them into the next decades.
"We can't do it forever," said Ray Earp, the current Fire Chief Mount Hermon Volunteer Fire and Rescue. "We have to have somebody take our place when we get a little age on us."
Jake Farmer, 21, is one of the young volunteers who's helping to keep Mount Hermon effective. He tries to come to the station four days a week after working at Chick-fil-A and keeps his radio on him at all times in case a call comes in.
"You never know when you're going to get a call or what the calls going to be for," he said.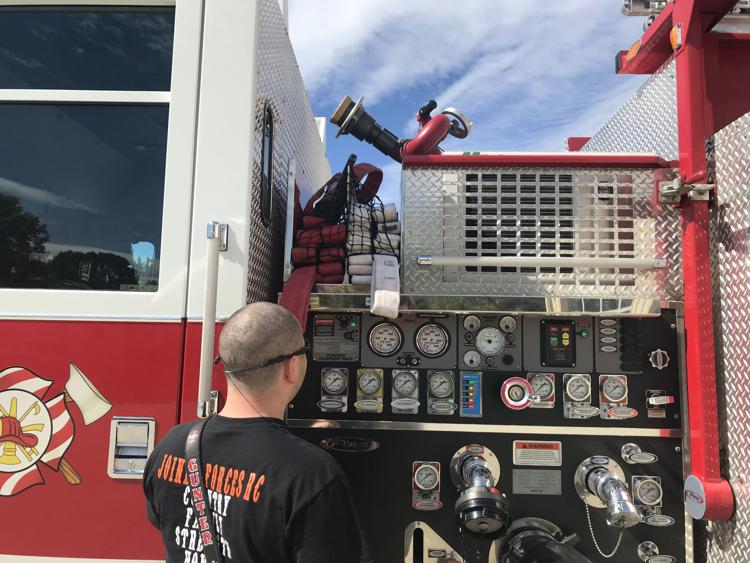 Coming from a family of volunteer firefighters, Patrick Gunter, 23, started volunteering with Mount Cross Volunteer Fire and Rescue at 16 years old. Today, he lives and breathes fire and rescue, working somewhere between 48 and 72 hours weekly as a paramedic with Delta Response Team ambulance service, in addition to volunteering with both Mount Cross Volunteer Fire and Rescue and Mount Hermon Volunteer Fire and Rescue on his days off.
"There's not enough volunteers out there for us to be able to leave it," he said.
Ayers reports for the Register & Bee. Reach him at (434) 791-7981.