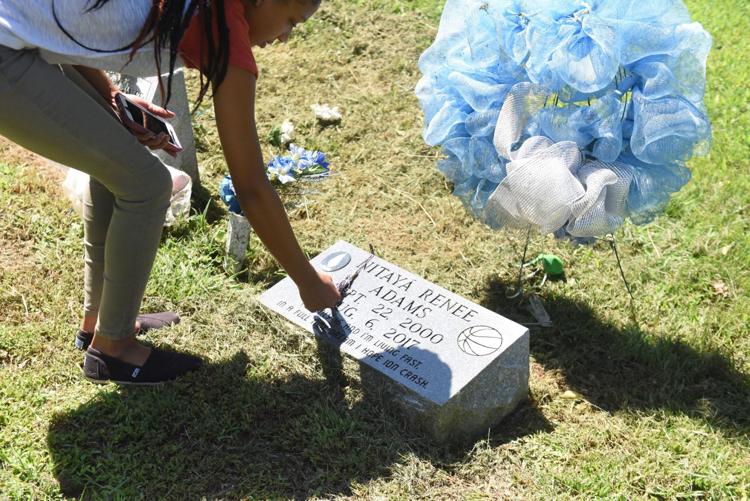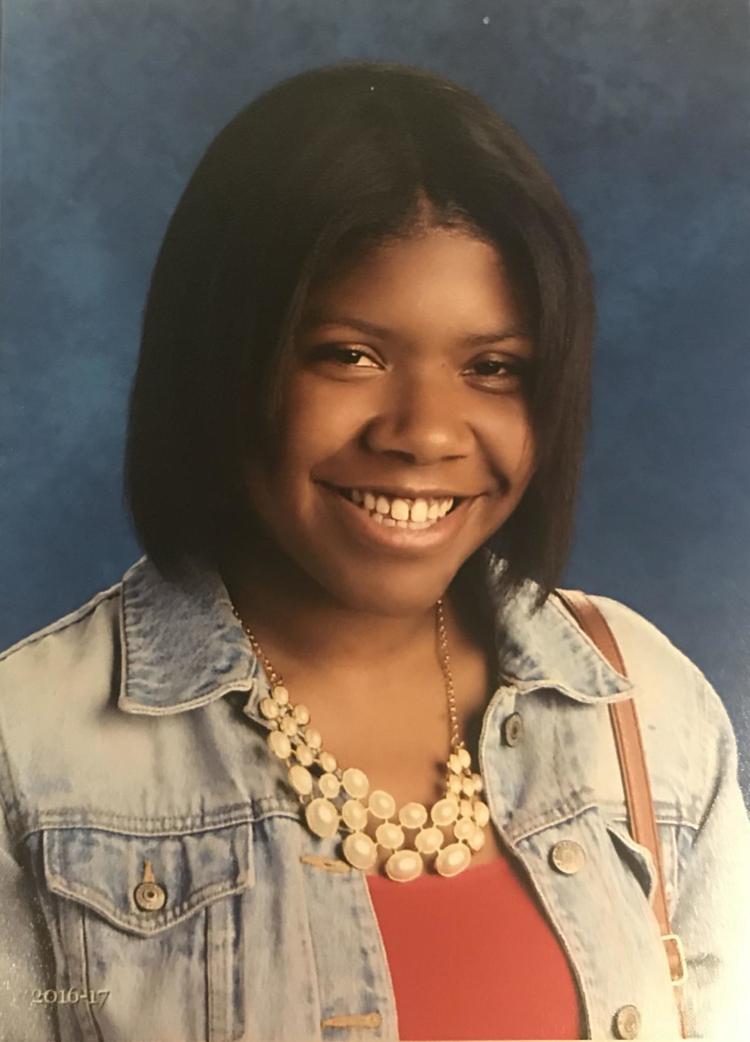 The wave of gang violence that swept over Danville in 2016 and 2017 began with a single shooting.
Friends and family talk about 16-year-old Nitaya Adams' wide smile, distinctive laugh, and rejoinders — how she adopted "ballout" as a nickname, even though she hardly ever touched a basketball.
"The life of the party" her cousin Anneka Betts, 23, called her.
They also remember Aug. 6, 2017, when she was shot and killed on Paxton Street. That date is tattooed on Betts' back.
In all wars there is collateral damage — when innocent people are caught up in the fight. The gang war that hit Danville years ago was no different. Adams was among the youngest to die.
Betts first heard the news around 6 a.m. Word was that an argument broke out at a party earlier that morning. Guns were drawn. Bullets flew, hitting parked cars. People scattered. One shot struck Adams in the back, and she died at the hospital.
She was a rising senior at George Washington High School who was already planning out her graduation before her final school year even began — she dreamed of college and pursuing a career as a nurse.
Instead, she died three days short of starting her senior year. She was one of the youngest victims of the gang-fueled killing spree that rocked Danville for two years starting in 2016.
The once-lively teen is buried in the southwest corner of Oak Hill Cemetery with her phone and the $10 her father customarily allowed her when she went out stashed in its case.
"She probably never had in her head that she was going to go this soon," Betts said, standing next to her grave one warm August day.
Adams' death was not a novelty in 2017 or the preceding year. Danville was a small city with a big, violent problem.
Homicides more than doubled from 2015 to 2016, leaving 16 dead. A further 14 people were killed in 2017, discounting one death from a vehicle crash and another homicide cleared by a grand jury as self-defense.
Among cities of 40,000 or more, Danville had the highest homicide rate per capita in the commonwealth of Virginia those two years, according to a review of Virginia State Police data. When looked at as a per-capita rate, a mathematical formula often used by statisticians to compare disparate population centers, there were approximately 38 homicides per 100,000 people in the city in 2016 and about 34 per 100,000 in 2017.
In comparison, Richmond — with a population of more than 221,600 people — had the greatest number of homicides among Virginia cities in 2016 with 58, and again in 2017 with 69. But its per-capita rate of 26 and 30 per 100,000 for those years is, respectively, below Danville's.
"Crime statistics are most commonly expressed in instances of 100,000 population," professor of statistics at Virginia Tech Fred Faltin explained. "It normalizes the number of incidents appropriately to the population of any given geographic region."
Meanwhile, the average number of homicides per-capita across the commonwealth of Virginia was approximately 5 in 2016 and 2017, according to that same police data.
Simply put, life in Danville was dangerous.
Adams
The last time Malcom Plummer spoke to his daughter was the August day she hopped into a car with friends, bound for the party, and after-party, where she would die.
His final words to her, he recounted in a shaky voice, were "I love you."
The youngest of three sisters, Adams was built solidly, her father recalled — athletically almost. Her eyes and mouth were free of worry-lines concomitant with old age and stress in the last school photo taken of her.
Plummer gained custody of Adams when she turned 3 and raised her in his hometown of Danville while her mother lived in Norfolk.
Father and daughter lived in the Cardinal Village apartments on Danville's southern end — within blocks of seven of the homicides recorded in 2016-17. Of those killings, six were gang-related.
Though the violence swirled around their two bedroom apartment, Plummer said that generally, everybody who lived in the complex got along.
When Adams died, Danville gangs' "turf war," referenced this way in a federal court document, was still in swing.
In the midst of 2016's violence, then Danville Police Chief Philip Broadfoot tried to calm the community, noting that most law-abiding residents did not need to fear for their safety. He said the targets of gang violence were typically young men involved with drugs and criminal activity.
"Many of them have been repeatedly involved in the juvenile justice system with no sign of improvement in their behavior," he said during a news conference held to address the violence in late 2016.
But keeping away from the people blamed for such mayhem proved difficult for many, especially when the average resident could bump into gang members every day at school, on the sidewalk, in the store or at work.
Those accused of gang membership are lifelong residents who sing in the church youth choir, maintain B-average grades, march in ROTC uniforms in high school, work as welders, nurses, and fast-food cooks, and look forward to birthday parties and Fourth of July cookouts, show documents in the ongoing federal racketeering case.
Plummer said he knew his daughter was not perfect, but he knows she was no gang member. She couldn't lie to him, he said.
"Some friends you have to worry about, and some friends you don't have to worry about," he said, peering over his rectangular glasses. "Everybody has good friends and everybody has bad friends."
Those bad friends, he explained, are hard to avoid, especially when they live in the same neighborhoods as everyone else. Brushes with gang members can hardly be prevented when they live on your block — or are members of your family.
On Nov. 6, federal prosecutors charged LaQuonte Tarvares Adams with racketeering conspiracy connected to the case against the gang known as the Rollin 60s Crips. He is Adams' brother. Her friends said the two were close, and publicly viewable Facebook photos show them together. It is unknown if he was connected to the people who began shooting at the party where she died in 2016.
Reading down the list of flower bearers in Adams' funeral program, two women stick out. They are currently entangled in same the federal racketeering case — accused of being members of the Rollin 60s Crips, and charged as accessories after the fact to murder and attempted murder.
One of the women was at the party where Adams was killed, Betts said. It is not known whether she had any connections to the people who drew weapons that night.
It also is not known whether Adams thought any of her friends might have gang connections.
Adams' mother would not comment on her son's indictment.
At 16, Adams was at that age when "her friends became her family" and children naturally peel away from their parents, Plummer said. At the time, he was working long, late hours as a cook at Ma Hollins Convenience Store on South Main Street, so whenever she was asleep, he was awake, at work or preparing to punch in.
Plummer knew Adams liked to hang out with friends — some underage drinking may have been involved, he conceded — and he knew his daughter was going to a cookout the night she died. He did not know about the kick-back — the late-night after-party on Paxton Street where she would be shot.
More than a year later, like Adams' friends, Plummer has plenty of memories to pore over. Settled back into a plush black armchair and squeezing a Newport cigarette between two fingers, he remembered his daughter as the girl who, with help from friends, emptied a whole bottle of hot sauce into his food as a prank — a girl who was friendly to everybody.
So when a friend woke him at 3 a.m. Aug. 6, 2016, and said his daughter had been shot, he thought there was no way it was actually happening.
"I'm thinking I'm dreaming, you know. I'm half-asleep," he said.
A crowd gathered to search for Plummer and let him know what happened. After he woke up and sped to the hospital, the mob of people followed him, he said.
By the time Plummer reached the hospital, Adams' mother was there. They tried to go back into Adams' room to see her, but hospital staff told them to wait in the chapel. Sitting in the windowless room with Adams' mother and sister, Plummer was afraid he would have to bury his daughter.
"The next time I saw my baby, she was lying on a slab in the morgue," he said.
Plummer
Adams was outgoing and kind — feisty, the father remembers. Her memory stays with him, even as milestones and birthdays pass without her.
She was supposed to graduate from George Washington High School in June 2018, with the commencement ceremony held on a Saturday morning at Averett University's north campus.
Instead, Plummer attended in his daughter's place, seated in the front row next to a framed picture of Adams and what would have been her graduation cap and gown.
Principal William J. Lancaster, speaking before the 277 graduates, noted her absence and the framed photo.
"Please know we have one empty chair here, the chair that was supposed to have Nitaya Adams sitting in it," the principal said, before holding a moment of silence for her and other students across the region that had died during the school year.
Adams was "an Eagle that was lost too soon," he added, referring to the school's mascot.
Plummer stepped up on the stage to receive his daughter's diploma, which hangs on his living room wall today. He wore a white shirt that bore a silhouette of a graduation cap and the words "My Daddy did it for Me" in cursive script. He had it specifically made for that day.
As the crowd clapped, someone shouted "Nitaya!" The father walked along the stage and eyed the framed diploma his daughter never got to touch.
He then hoisted it above his head for all to see.
"I really wanted her to be there beside me to get it," he said. "That is the only thing I was thinking."
His daughter's slaying remains unsolved and hard to make sense of, Plummer said. To him, there is one solution to the larger problem of violence in the city – a problem that starts and has to end on the streets, addressable only on an individual, moral level.
"Somebody has got to say, 'this is enough, man,'" he said. "Until then, it's going to continue to happen."