There is no instruction manual for growing industrial hemp in the United States, but that isn't stopping tobacco farmers Robert Mills, Robert "Bob" Harris and 29 others in Pittsylvania County from trying.
Mills said that both Virginia Tech — the university he grew some research hemp for in 2018 — and North Carolina State University have done research and provided some assistance, but there are only recommendations. There aren't any proven processes for the soil conditions in the county.
"It's so new that all of us are going blindly," Mills said.
Tobacco quite literally put the city of Danville on the map, but the industry has seen a pointed decline during the past several years. Harris said 2013 was the last really good year, and the past five years have been extremely rough for local farmers. Even still, Pittsylvania County remains one of the national leaders in the production of flue-cured tobacco.
With major drops in demand because of health concerns, tariffs that limit exporting options and tobacco companies choosing to cut costs by importing from other countries, tobacco is not the cash crop that it once was. The lack of profit has led many farmers to quit and others to diversify and expand, spreading their cost of production and generating more financial security.
"Agriculture in general right now is in a tough spot," Harris said.
To offset the losses, many farmers are experimenting with industrial hemp — which has a rapidly growing market that has the potential to generate a significant profit for producers. Elaine Lidholm, a spokesperson for the Virginia Department of Agriculture and Consumer Services, says as of as of July 3 there are 847 registered hemp growers across the state, which is more than twice as many as there were in March.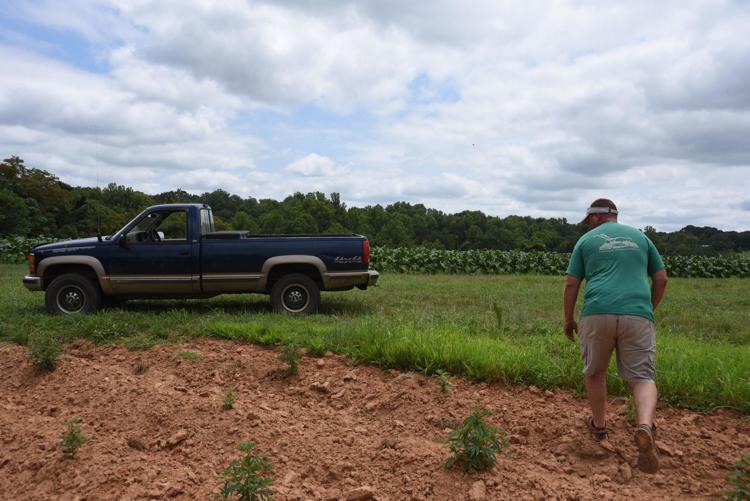 Even though there is great profit potential for these growers, there also is significant risk due to the lack of instructions for growing in the country and the soil variations in Pittsylvania County.
Industrial hemp has a variety of uses, but the Pittsylvania farmers growing it are focusing on harvesting CBD — which is short for cannabidiol. The oil occurs naturally in the flowers of the female plant and has been used primarily for pain relief.
Industrial hemp has been used in the United States for years, but it hasn't been grown here for many decades. A report from the Farm Bureau states "Canada is the largest supplier of hemp to the U.S., accounting for as much as 90 percent."
As the research production of industrial hemp has increased in recent years, the amount of imported hemp has decreased.
That number has skyrocketed since Congress legalized the commercial production of industrial hemp that contains less than 0.3% tetrahydrocannabinol — or THC, which is the part of marijuana that makes someone high — with the Hemp Farming Act of 2018.
States are still allowed to regulate production, and the amount of regulation has ranged widely. Right now, 18 states allow the commercial production of hemp, all with varying degrees of regulation. Many other states only allow research production, and some states don't have any laws on the matter.
Here in Virginia, all research and commercial hemp programs are supervised by Virginia Department of Agriculture and Consumer Services, as well as the Virginia Commissioner of Agriculture and Human Services.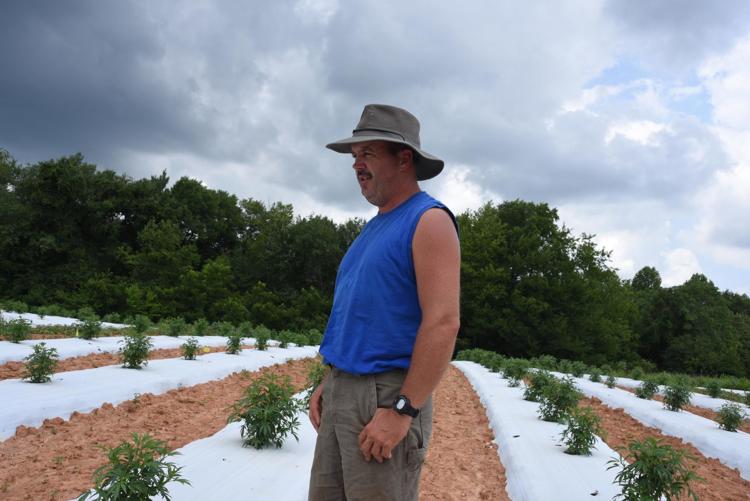 Mills is a first-generation farmer who runs a diverse operation with tobacco, cattle and poultry. Of the 31 growers in Pittsylvania, Mills is growing the most.
"This has the most potential to be the profit like tobacco used to be," he said.
With Pittsylvania County covering such a large geographic area, there is significant variation in the soil types within the county, which makes it hard for the farmers to effectively compare notes. Mills said the composition of the soil east of U.S. 29 reflects that of the Piedmont region, whereas the soil west of U.S. 29 is more similar to the foothills of the Blue Ridge Mountains.
Mills is using all of the same techniques and equipment he would use with tobacco.
"We planted it with a tobacco planter, we cultivated it with tobacco equipment, we cut it with our dark tobacco knives, and we're going to put it in our tobacco barn and dry it," he said.
Others like Harris are using plastic coverings for grass control, as well as a drip irrigation system, which involves a tube with holes running under the row of plants. Harris planted his by hand, which was a very labor-intensive process. Both Harris and Mills described the different strategies as "management decisions."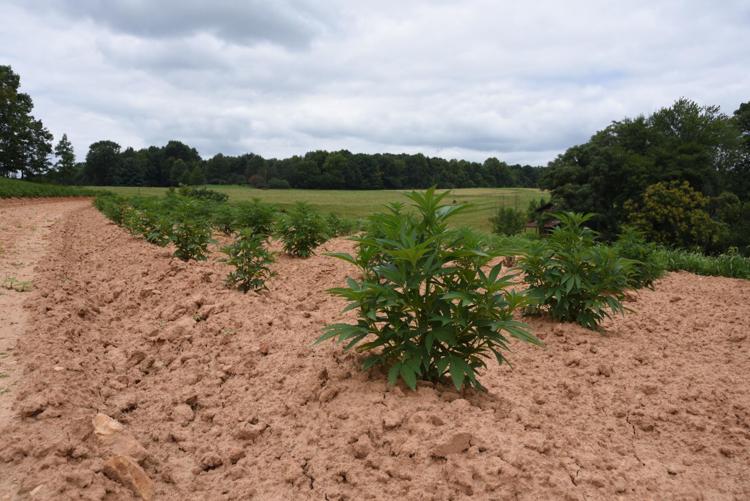 After planting in June and July, the farmers plan to harvest in September and October. Harris says the longer they leave it out, the more CBD each plant will have. The longer they wait, however, the more THC will develop as well. Their goal will be to maximize the amount of CBD without going over the legal limit of 0.3% THC — at which point they would be required to destroy the plants in the whole field.
All of the farmers growing in Pittsylvania County are working using different variations of organic, cloned plants from Colorado, provided through their contract with US Agro Logistics located in Danville. For this planting season, each organic cloned hemp plant cost $7.
"We stand to make a whole lot of money, but then again, we also stand to lose a whole lot of money," said Harris.
Both farmers have already experienced difficult weather conditions that have threatened their plants. The 2018 farm bill has provisions for insurance covering industrial hemp, but the regulations and details have still not been determined. As a result, there is no insurance available for the producers.
"That kind of keeps you up at night," said Harris.
Ayers reports for the Register & Bee. Reach him at (434) 791-7981.