Combined overtime of sheriff's office and jail
| FY | Sheriff's & Jail Overtime Lines | Extra Duty Revenue | Total Sheriff's & Jail Overtime |
| --- | --- | --- | --- |
| 2009 | $268,320.88 | $(70,572.17) | $197,748.71 |
| 2010 | $364,415.21 | $(64,887.52) | $299,527.69 |
| 2011 | $431,934.06 | $(88,752.44) | $343,181.62 |
| 2012 | $440,222.87 | $(102,466.07) | $337,756.80 |
| 2013 | $477,899.50 | $(129,610.15) | $348,289.35 |
| 2014 | $532,496.93 | $(94,992.94) | $437,503.99 |
| 2015 | $588,770.66 | $(142,327.88) | $446,442.78 |
| 2016 | $590,096.09 | $(121,703.78) | $468,392.31 |
| 2017 | $686,056.94 | $(130,136.90) | $555,920.04 |
| 2018 | $838,180.07 | $(125,714.18) | $712,465.89 |
| 2019 | $797,909.46 | $(101,351.47) | $696,557.99 |
Sheriff's office overtime only
| FY | Sheriff's Overtime Line | Extra Duty Revenue | Total Sheriff's Overtime |
| --- | --- | --- | --- |
| 2009 | $201,883.65 | $(70,572.17) | $131,311.48 |
| 2010 | $202,741.47 | $(64,887.52) | $137,853.95 |
| 2011 | $267,122.32 | $(88,752.44) | $178,369.88 |
| 2012 | $278,263.31 | $(102,466.07) | $175,797.24 |
| 2013 | $304,014.19 | $(129,610.15) | $174,404.04 |
| 2014 | $345,408.44 | $(94,992.94) | $250,415.50 |
| 2015 | $428,987.41 | $(142,327.88) | $286,659.53 |
| 2016 | $418,396.55 | $(121,703.78) | $296,692.77 |
| 2017 | $471,998.88 | $(130,136.90) | $341,861.98 |
| 2018 | $514,558.17 | $(125,714.18) | $388,843.99 |
| 2019 | $553,108.27 | $(101,351.47) | $451,756.80 |
Overtime of jail only
| FY | Jail's Overtime Line |
| --- | --- |
| 2009 | $66,437.23 |
| 2010 | $161,673.74 |
| 2011 | $164,811.74 |
| 2012 | $161,959.56 |
| 2013 | $173,885.31 |
| 2014 | $187,088.49 |
| 2015 | $159,783.25 |
| 2016 | $171,699.54 |
| 2017 | $214,058.06 |
| 2018 | $323,621.90 |
| 2019 | $244,801.19 |
Overtime costs for the Pittsylvania County Sheriff's Office and jail departments have tripled over the past decade, however the county isn't always footing the bill for those extra hours worked.
During the last fiscal year that ended in June, overtime costs for the sheriff's office continued a steady climb upward, reaching a peak of $553,108 over the last 10 years. That's up over the previous 2018 fiscal year cost of $514,558.
On the flip side, jail's overtime costs bucked trend and declined by 25%. 
Pittsylvania County Sheriff Mike Taylor said it is common for any given employee in the sheriff's office to work overtime hours on a normal week.
There are a variety of factors that play into the amount of overtime. The amount fluctuates with crimes and investigations, extensive court cases and the number of government meetings that happen in the courthouse,Taylor said. 
John Jones, executive director of the Virginia Sheriff's Association, works with sheriff's offices and jails around the state. He said overtime is extremely normal for these departments throughout the state for two main reasons. 
The first is a shortage of correctional officers. The second is a state mandate of one officer for every three inmates, and one for every five once a facility gets into overcrowding, Jones said. 
"The commonwealth of Virginia has a staffing standard that they do not fund," he said.
Jones and Taylor said inmate transports also can be extremely time consuming and have people working very early mornings, late nights or both. 
Pittsylvania County Finance Director Kim VanDerHyde said employee turnover, a short staff and rising crime rates in the area have all contributed to the increase in overtime.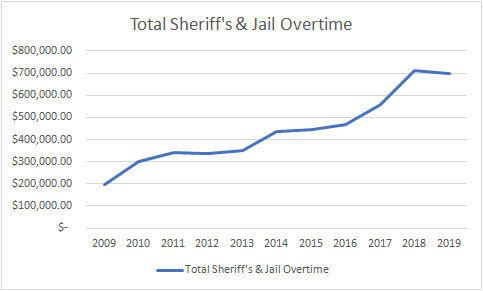 Taylor pointed to a spike in crime early in the year — which he referred to as an anomaly — contributed to the higher numbers this year. 
However, VanDerHyde said that the county isn't fully paying the bill for all of the overtime hours. Many deputies and employees work extra assigned duty for schools or at local events, and with football season coming up, Taylor said that there will between four to eight deputies at each football game. 
"We do get revenue back if they're doing assignments for other entities," VanDerHyde said.
The budget shows $101,351 in extra duty revenue was paid back to the county during the last fiscal year for deputies working overtime. 
Higher ranks like captains and lieutenants are salary-based and exempt from earning overtime, but the majority of the officers and deputies are eligible. 
Overtime costs for jail employees had followed a similar trajectory: after more than doubling between 2009 and 2010, the costs have risen almost every year since, increasing almost five-fold.
Last year, however, the overtime costs for the jail dropped from $323,621 in fiscal year 2018 to $244,801 in fiscal year 2019. VanDerHyde said the jail stayed within its budget for overtime costs this year. 
Two years ago the jail staff was undermanned by as many as 14 people. Natural attrition and turnover left the remaining employees working extensive overtime hours. 
"When your numbers are down, you can't cut the lights off and just walk out… That jail runs 24/7," Taylor said. 
Taylor said many potential employees said they would love to work for the county, but neighboring counties and localities were offering higher starting salaries for certified positions by as much as $5,000. 
To help compensate, Taylor worked with the Pittsylvania County Board of Supervisors to allocate a $4,500 bonus spread over the first three years. 
"It has been a tremendous help attracting good qualified people to come and serve as deputies here in this office," he said.  
For the jail, they have winnowed the vacancy rate down to about 3%, which is better than the 8% or 10% percent most studies show is normal in correctional facilities. 
One step Taylor is taking to reduce the amount of overtime hours is requiring all new hires to receive certification in both corrections and law enforcement. 
"We can utilize people in both positions. If we're short in the jail we can pull people from the field that are jail-certified and vice versa," Taylor said. 
Taylor doesn't foresee any decrease in overtime with events and extra duty assignments. 
"What would be great would be the reduction in overtime due to crime. That would just be a win-win for everybody," he said.