Friends and family talk about 16-year-old Nitaya Adams' wide smile, distinctive laugh, and r…
The wave of gang violence that swept over Danville in 2016 and 2017 began with a single shooting.
It started with a phone call and an argument.
On Aug. 20, 2016, Dashawn Romeer Anthony — leader of Danville's Milla Bloods gang who pleaded guilty in February — put in a not-so-friendly call to a rival gang leader. Later that day, a man was dead — gunned down in the parking lot of the Southwyck Hills Apartments. The chaos that followed lasted for more than a year.
LaQuante Tarvares Adams, admitted member of the Rollin 60s Crips, recounted that day as part of his plea agreement with federal prosecutors. Anthony, he said, was on the phone with the leader of the Billys Bloods, a rival gang. The two men — and their respective organizations — were not on good terms. They had been warring since December 2015, according to court papers, when a Billys member pulled the trigger on a man from their turf. That led to retaliation, which fed more shooting — rocketing Danville up the list of most dangerous cities in Virginia per-capita.
The call was supposed to provoke the Billys, and it begot a plan: lure the head of the gang to Southwyck Hills and gun him down. Gang members fanned out across the complex, armed and waiting. One accused gang associate hid in her apartment with her child while other armed members posted up at the windows, ready to shoot. Around 10:20 p.m., they did, opening up on a white van that rolled into the parking lot. The van was riddled with bullets from multiple directions, according to court documents, and a passenger, Christopher Lamont Motley, was killed.
The shooters scattered, hopped in cars, bolted for the nearby woods, and scrambled to nearby apartments in the complex. Adams saw Motley's body on the ground and ran.
But that shooting — and the many that preceded it — did not go unnoticed. Unbeknownst to gang members, who chiefly concerned themselves with local police, federal officials took notice. Just shy of two years later, the accused gang members were under federal indictment — most staring down the possibility of a lifetime in prison.
Danville is not the only city with violence and gang issues, former U.S. Attorney for Virginia's Western District Timothy Heaphy said. But the city's problems were significant enough to capture federal attention when Heaphy served as U.S. Attorney from 2009 to 2015. Even before the flurry of killings in 2016-17, the city was known to federal agencies for its issues with drugs, guns and gangs.
"Danville has always been on our radar," Heaphy said. "Danville, historically, had a whole host of criminal justice challenges."
The Register & Bee interviewed Heaphy in 2018 before he accepted a position as legal counsel for the University of Virginia.
Danville police did not work alone to solve the city's gang problem, which left eight dead in 2016 and seven dead in 2017. Federal agencies had been watching the city for years and working in tandem. But their fight did not always go smoothly, Heaphy said.
Efforts to curb gang violence began years before the deadly street war kicked off, though they were hampered because there were problems sharing information between federal, state and local agencies, Heaphy said.
Problems mounted when all the involved law enforcement bodies came to the table around 2010 — Danville police, the FBI, the Bureau of Alcohol, Tobacco, Firearms and Explosives and others, Heaphy said. All agreed something needed to be done, but they had trouble coordinating their efforts.
"The only way this works … is you've got the FBI, ATF, the state police and local agencies sharing information," Heaphy said. "We had trouble assembling that."
None of the people interviewed for this story — police, commonwealth's attorneys and representatives of the U.S. Attorney's Office — would identify the origins of those problems
It wasn't just a failure to share information, the former attorney general said: agencies could not reach a consensus on the course of action they should take.
"We prioritized Danville, but did not get the traction we hoped," Heaphy said. "Unless you are willing to put people on the ground and work across agencies, you are not going to get results."
The city's geography further compounded the problem. Located along the Virginia and North Carolina border, Danville is a good distance from the nearest federal office, making a round trip to and from the city onerous, said Matt Carter, former captain of investigations at the Danville Police Department. The closest federal law enforcement offices are an hour away in Lynchburg and several more away in Roanoke.
"It has been challenging when we do not have any agencies actually seated here in Danville," Carter said. "The U.S. Attorney's Office, they do not have an office here, none of the federal agencies have an office here, so they are having to drive."
Current U.S. Attorney for the Western District of Virginia Thomas Cullen also acknowledged the city's geographic issue. He was appointed to his post in 2017, so while not at the helm when the violence began to ratchet up in Danville, he heard of it. Because federal agencies had no offices in Danville, Cullen explained, their agents were only visitors — peripatetic enforcers doing episodic work. That gave criminals time and space to expand when federal authorities receded from the city.
"The problem historically from a federal law enforcement standpoint in Danville: there are no federal [stations] in Danville," Cullen said. "We would achieve some success and, in the vacuum, these pockets would fill back in."
But federal agencies have taken a new tack to reduce gang influence and violence in Danville, Cullen said. The two federal racketeering cases involving 20 suspected gang members speak to that. More is to come, he said.
The more to come
Motley's shooting death has been the centerpiece of charges against accused members of the Rollin 60s Crips and Milla Bloods since federal indictments were handed down in June 2018. The two cases are separated by gang affiliation, though court documents show that did not matter much on the streets.
As it turns out, Danville's Bloods and Crips did not carry on the historic rivalry of their national gangs. Instead, they cooperated with each other; some even lived in the same house. Court documents illustrate that the two gangs met and agreed to "tie the flags" to be better criminals.
But that confederation was not sanctioned by national higher-ups and earned the Billys' ire. National Bloods leaders, in turn, put out a hit on Anthony — the Milla's leader. Before long, both the Millas and Billys had standing orders to shoot each other's members on sight, court documents show.
The two cases against the Bloods and Crips are part of a collaborative program dubbed Project Safe Neighborhoods, which targets violent offenders in high-crime areas.
The program was revived by former Attorney General Jeff Sessions in a clamp-down on violent offenders. The two gangs' prosecution is a direct result of it. The program is a mixture of crime fighting, with federal and local law enforcement hunting criminals, and community outreach, where nonprofits and community groups work to keep the peace.
The enforcement angle, with the arrest of more than a dozen accused gang members, has already begun, Cullen said. And because the cases are referred to federal courts, that could mean stiffer sentences for those found guilty.
The community programs are the next step. The Department of Justice hopes to direct $120,516 of grant money to community organizations throughout the western district of Virginia, U.S. Attorney's Office regional spokesman Brian McGinn wrote in an email.
Taking lessons from the communication issues that hampered the local fight against gangs before his time as U.S. Attorney, Cullen said federal officials are keeping close ties with local prosecutors and police.
"Historically, folks in this office did work with the Danville Police Department," Cullen said. "But I think it's fair to say … that the relationship today is as strong as it has ever been."
Today, there are at least weekly meetings and phone calls between federal and local police, Capt. H.S. Richardson of the Danville Police Department said.
"We are regularly working with every federal agency, local prosecutors, federal attorneys," he said. "I can tell you we have information that gangs have taken notice that Danville is not a good place to be doing that kind of work right now."
At least once a month, the U.S. Attorney's Office and relevant federal and local agencies sit down with Danville prosecutors to decide whether local cases are a better fit for state or federal court, Danville Commonwealth's Attorney Michael Newman said. That determination is made jointly, considering potential federal prison and state jail sentences among other factors.
"You are going to see more federal cases come out of Danville in the next few years," Cullen said. "I will not view my tenure a success if we do not do more of these cases."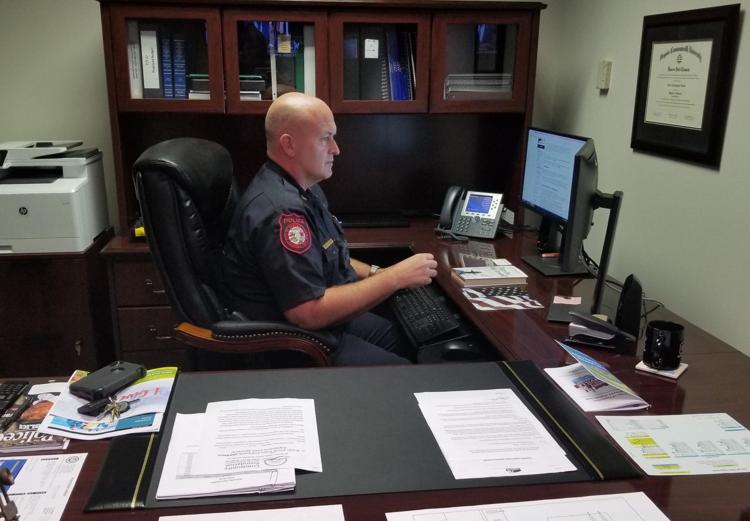 That effort, coupled with Danville police's outreach programs, has made progress, Chief of Police Scott Booth said.
"Since I walked in the door, I have felt very good about our relationships with our federal and our state partners," he said.
Booth and others in the department stressed that the cooperation between federal and local agencies is at a high point. Cullen agreed.
"This is really the first time we've had an ongoing and collaborative relationship," Cullen said. "The results speak for themselves"
But the Rev. William Avon Keen, president of the Virginia Southern Christian Leadership Conference, said there is a ways to go before the problem is solved. In his view, youth are lured to kill and join gangs because television, music and other media romanticize them. He believes that poverty, unemployment and improper education are also among the chief drivers of violence in the city. Prevention is his remedy for the problem.
"[Youth] are not being educated properly on the value of life," he said. "Something needs to be done to change that atmosphere in the community."
He lauded the police for taking steps to improve community relationships, but he said that trust is slow to build — especially in impoverished neighborhoods where some people feel they have to commit petty crimes to make ends meet.
"You have got to give the police credit for the work they are doing," he said. "The people want police to protect their communities, but a lot of times, when police are in the community, they have confrontations."
Since the indictments against the Bloods and Crips were passed down, Danville has seen gang killings wane. The police department has seen only one six months into 2019. From January to July of 2016, there were three gang-related killings, all of which are still under investigation. Police accounted for four in the same period in 2017. Two of those are still being probed.