Part of Danville's downtown became the scene of a music video Sunday morning. 
Main Street from Craghead Street to North Union and South Union streets was shut down for about four hours so Jacob Murphy and a couple of his classmates from Full Sail University in Florida could shoot a video for a rapper who lives in Cascade. 
The wet weather didn't deter Murphy and his team.
"It was rainy," he said Sunday afternoon. "It was so hard to get it done but we got it done. We were fighting the rain all day."
The video, featuring rapper Wasi K, included smoke bombs and was shot with a drone and two cameras, Murphy said. It was for a song called, "Mera Dor."
It will be shown on television in the rapper's native Pakistan and on YouTube after the video's production is complete, Murphy said.
"We're hoping to get it done in the next month and get it posted," he said. 
Danville Fire Department Battalion Chief Brian Alderson said the city gave approval for the street to be closed at the time. 
The street was to be closed from 6 a.m. to 10 a.m. Sunday, according to the street closure permit application filed by Murphy on Dec. 19. 
"We worked with them to ... find a time minimally impactful for traffic going through there, and no businesses were open at that time," said Danville Police Department Maj. Chris Wiles, who approved the permit application. "They wanted kind of a downtown scene."
The police department is responsible for granting approval of street closure permits, which are also referred to as block party permits, Wiles said.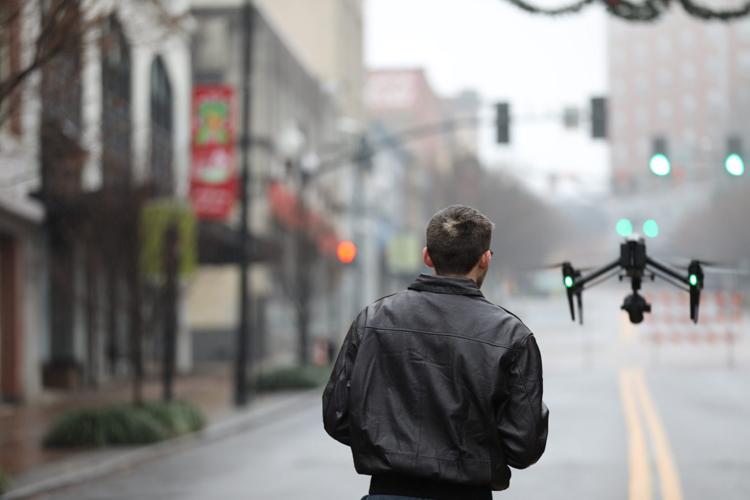 Murphy, 24, along with fellow Full Sail students Bryan Queitzsch and Felix Reyes, directed the video. 
A 2015 graduate of George Washington High School, Murphy is set to graduate from Full Sail in March. 
He hopes to work in broadcasting and shoot videos on the side. 
"I want to move back to Danville after graduation and work at a local news station," he said.  
Full Sail University is a private, for-profit school that offers campus and online programs designed for entertainment, media, arts and technology. 
Murphy has done other videos and worked on sound for short films in the past, he said. 
The video shot Sunday morning was originally supposed to include a pickup truck and a background dancer, but those parts did not work out, Murphy said.
"It was kind of a small shoot," he said. "It fell through at the last minute, but it still worked out."