Four families in the Danville area are trying hard to cope with their new normal.
All are feeling the stress of staying at home to practice social distancing amid the coronavirus outbreak, but also are trying to find the blessings in their new way of life.
Brian and Liz Tubbs have four children ages 11 and younger, two of whom were in school until it was suspended last week.
Liz describes their new stay-at-home life as "going well, but a little crazy and off."
"Because it was a sudden school closure, we are having to adjust to kids being out faster than if it was for summer vacation. I will not lie, there have been times this last week that I wanted to pull my hair out, but we are learning and adjusting and trying to figure out what is best for our family right now," she said. "There have also been some good times with siblings playing more, helping each other and having fun."
The hardest part is coming up with a new routine that works for both the older children and the 4- and 2-year-old.
"When the teachers from the kids' schools put together packets of work for them to do this changed things for us tremendously. It gave some guidance as to what to do with the kids to keep up their school work and learning so that when they go back they are not behind," she said. "So we have implemented school time in the morning, and the kids spend about two hours sometimes, more or less, working on school assignments."
There also are chores in the morning, then play time inside or out, depending on the weather. Quiet time is while their sister takes a nap and Liz can get some tasks done.
"During this time they can read books, use their tablets for educational activities and movies, or actually sleep, which never happens," she said. "We have also been playing board games, having dance parties, painting, using play dough, drawing, etc.
"It's been hard coming up with ideas for things to do, but we are working on different ideas and lots of people have posted ideas on social media or Pinterest, which have helped," she said.
Maddox, 11, asks a lot of questions about the coronavirus and his parents do their best to answer them.
Choosing faith and trust
"But I think the thing that has helped the most is that we as parents have remained calm during all this and have put our faith and trust in the Lord. We have talked with the kids about how the Lord has a plan and is mindful of us and will help us, and we pray every morning and night regarding the virus," she said. "This does not mean we are sitting back and not doing anything to help minimize our risk of getting the virus.
"We definitely are. We have tried to make sure we have enough supplies for two weeks and longer, as well as obeying the social distancing, and other recommendations from government leaders.
"But we are at peace because we know that we will get through this and no matter what happens we know, the Lord has a plan and is mindful of us and will help see us through."
She said the feeling in their home is not fear or anxiety, but maybe just cabin fever.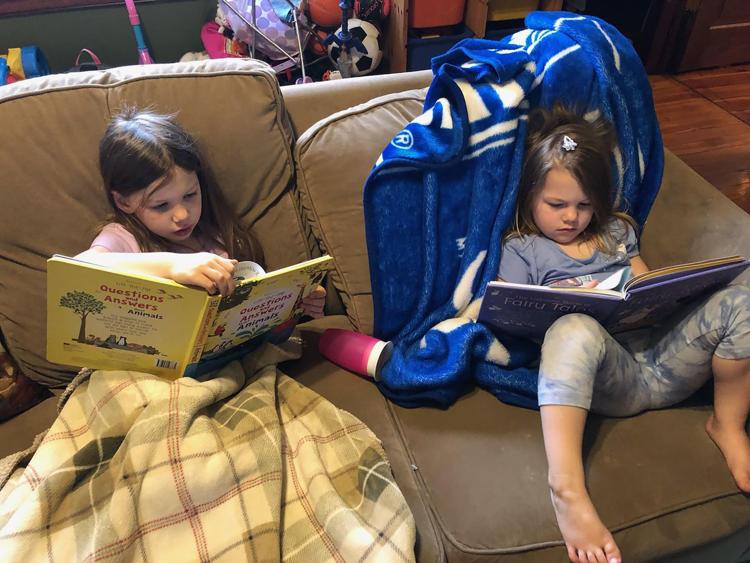 "There has been a little frustration in that Maddox would like to see his friends and have friends over and my daughter who is in first grade misses her teacher and friends," she said. "So that has been a little difficult for them, especially when my son, who is the oldest, has three younger sisters and doesn't necessarily want to play house or princesses."
Above all, the family tries to keep a positive attitude and be kind.
"I think the hardest part of all this is not knowing what the future holds and what lies ahead and realizing that what our normal used to be may not be the case in the future," she said. "But we can only take this day by day, do the best we can, realize we're not alone in all this and that people all over the world are going through what we are."
Brian works as a licensed clinical social worker and had some professional advice for families like his who suddenly are together at home all the time.
"Do anything and everything that you can find to be creative. Now is the time to slow down, re-evaluate priorities and get to things you haven't done because you were too busy," he said. "Phone calls, texts and written letters to others can help with feelings of isolation because even though you might be alone, others are in the same predicament."
He noted it will be stressful to have the children home and parents need to manage their expectations of behavior.
"It's not going to be perfect, and parents need to lead by example how to cope with stress and cabin fever. Now is the time to engage with your children more," he said.
Embracing the opportunity
The Chapman family consists of dad Jaxon, mom Lindsy, son Ryker, 14, and daughter Ami, 12.
Jaxon is a schoolteacher, but hasn't had to do much homeschooling. Lindsy said the children are in the gifted programs at school and usually just need help proofreading a paper or with the citations.
"They have Chromebooks the middle schools provide for the students to use throughout the school year and do most of their work in Google Classroom already, so their teachers are just putting assignments in there that the kids check every day," Lindsy said. "[They] are pretty motivated and self-sufficient, so I just check in and give them a reminder to check their classes. They do it on their own in their rooms just like they would do homework."
Cabin fever has been the biggest problem of the past week of staying inside.
"Getting out and being in the world is important to Jaxon and me even if it's just window shopping," she said. "And since both kids are on the autism spectrum I worry about them regressing in their social skills."
She loves having the children at home, though, and has embraced the opportunity, which she chose to call this time, of being together and getting to know each other without distractions or obligations.
Most of her fear is with sending the children and Jaxon back to work too soon.
"I want to make sure they are safe. Kids in schools do not socially distance themselves, and they definitely don't wash anything," she said. "For now, the kids are not worried because they are here, but the thought of leaving does worry them. I get concerned we will all have a little agoraphobia before this is all over."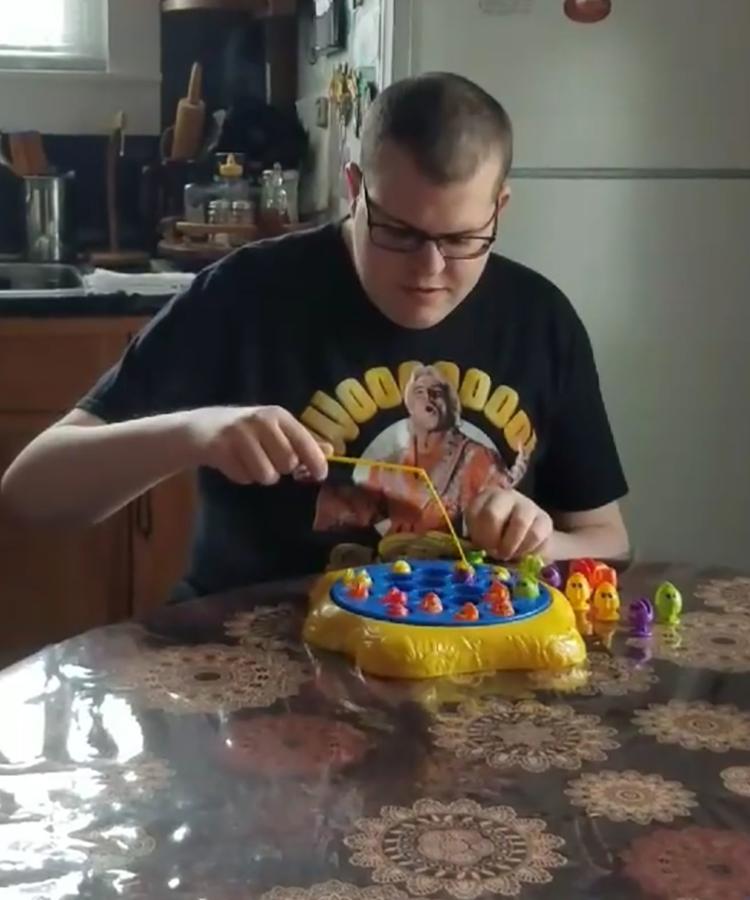 Special needs
Rhonda May has different challenges with so many places being closed and trying to keep their distance.
She is the caregiver for her 32-year-old son, Curtis Nichols, who has special needs and doesn't understand the new restrictions in his life. Her friend, Timmy Hutcherson, lives with them, as well as a 14-year-old dog Westie.
"I used to take Curtis to the YMCA three days a week to swim in the pool, we went to church on Sunday and we had other outings like the library or Sam's Club and Walmart," she said. "He has been on edge and had some upsets due to having to stay in. He doesn't really understand why he can't go to the Y and other places, which he sees as social opportunities."
Keeping Curtis entertained and calm is their main goal during the isolation.
"We try to keep him distracted with driving around, playing with his tablet or games, or television," she said. "We sit on our front porch when it is warm and watch cars go by. I've played Barney songs on my guitar and we sang one afternoon. He enjoyed that."
She misses seeing her parents, her daughter and her grandchildren, as well as going to church.
"It's sad to think I might not be able to celebrate my daughter's birthday with her," she said. "But I have had time to do a little spring cleaning, and I actually took a nap last Monday."
She feels stress from the uncertainty of when things will return to normal and thinking about the damage of people being out of work and the effects that will trickle down from that.
"But I try very hard to focus on the fact that God has a plan and this is part of that plan," she said. "I'm not driving this bus; I'm just a passenger. So I won't pretend I know where it's going or where it's going to stop. I will just try to enjoy the scenery and trust that the bus driver's got this."
Taking time to rest
Robin Thompson is using her time off work as the manager of American Eagle, which temporarily shut down, to slow her pace and rest a bit. She lives with her husband and their animals.
"The worst part is the sudden change to my system of not going 100 miles an hour with work and home, but it has allowed me to do some early spring cleaning and to spend time with my husband," she said.
She has slept late, cleaned the house, caught up on multiple Netflix shows and explored all of Disney Plus.
"I've also enjoyed my deck during the nice weather and taken time to actually cook," she said. "I feel like I can relax."
To her, the worst part about the virus scare is feeling anxious about the uncertainty of the future and worrying about people she loves getting the virus.
"I know this is scary and can be very stressful for a lot of people, worrying about money, health and the coming weeks ahead of us," she said. "But I can't help but take this as an unexpected blessing of some sort for me and my family.
"We don't live above our means, so we are financially OK for now. I've been able to channel my 100-mile-an-hour energy of working retail and invest it into my home and family. It's helped me to reflect on more important issues, and pull back on the 'I want this, we need that' and be grateful for what we do have already."
'This too shall pass'
Linda McConahey, who with her husband, Bill, is a relationship coach in Pelham, North Carolina, said the best way to cope with the sudden change in life is to "remind yourself that this change isn't permanent, that this too shall pass.
"Breathe. Develop an exercise program for everyone," she advised. "Learn and practice relaxation techniques and focus on what you can do rather than what you can't do. Use this time to accomplish some tasks you've been putting off, such as cleaning closets, cleaning out the refrigerator, collecting items for Goodwill, etc."
To deal with the tasks involved with children, she said to include all family members in meetings with agendas and have everyone contribute suggestions and solutions, then re-evaluate if necessary.
"Negotiate free time and work time, and ask your children for ideas and help," she said. "Working together as a family with everyone contributing and supporting each other empowers everyone."
Elzey is a freelance writer for the Register & Bee. She can be reached at susanelzey@yahoo.com or (434) 791-7991.