Zack Turner got his first taste working at a haunted house when he was 6, and the older he got, the more he realized this was something he wanted to do long-term.
He and his wife, Amanda Turner, are now in their sixth year of running 43 Nightmares — a haunted attraction in Keeling that has continued to expand and draw more people.
"We're able to bring something to the community here," Zack Turner said.
Accessible by a narrow trail through the woods, a group of creepy looking people in strange costumes gather together, many sitting at picnic tables and smoking cigarettes. Inside a shed illuminated by fluorescent lights, Amanda Turner is hard at work, making each of the characters look as mysterious and spooky as possible.
She initially thought her husband was crazy when he suggested starting a haunted attraction several years ago, but she decided to join him. Over the years she has made many of the costumes by hand and taught herself how to do the makeup.
Sometimes she copies something else, sometimes the actors have an idea of what they want and other times she just makes it up.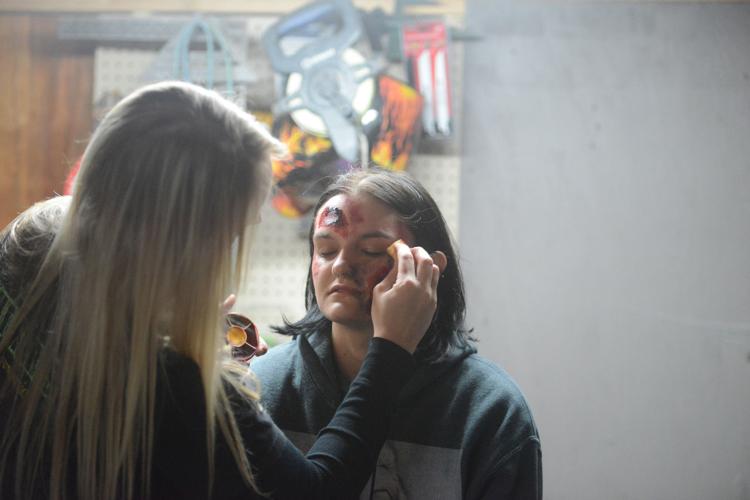 "I've been kind of winging it since we opened," she said.
Throughout the majority of the year when 43 Nightmares is closed, the couple still is hard at work improving and growing the attractions, in addition to their full-time day jobs.
"Honestly we work on this from the time we close to the time we open," Zack Turner said.
Amanda Turner focuses much of her time on editing photos, developing marketing material and making costumes, among other things, while Zack Turner spends his time building the sets.
They also attend an annual Halloween trade show where they find inspiration and useful props.
After conducting auditions for the actors, the couple runs five or six training sessions where the actors learn about and develop their characters before the haunted attraction opens. They also conduct a few trial runs to help the actors get experience.
"We can train all day long, but until we get people we are basically doing it for nothing," Zack Turner said.
Some actors come in with a specific character or role that they want to play, while others are simply curious about what it's like.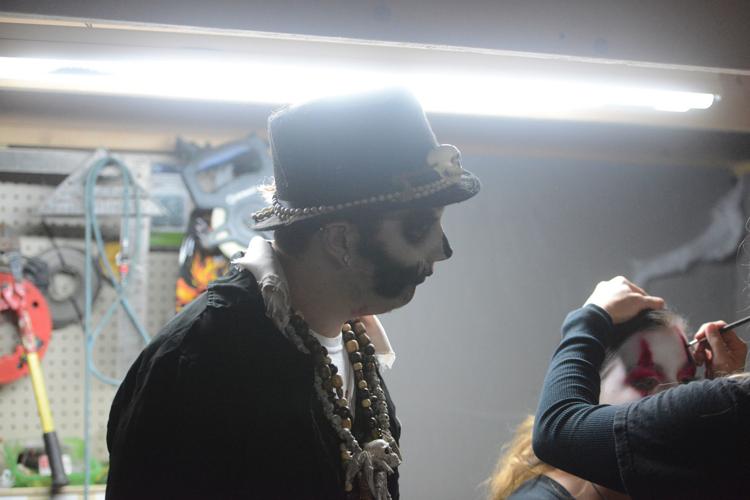 Michael Arthur, 21, said his brother forced him to go through 43 Nightmares several years ago, and he absolutely was terrified. But for the past couple of fall seasons he has worked at the attraction to improve his acting skills.
Wearing a top-hat and necklaces with skulls on them, he explained one of the keys to instilling fear is repetition.
"You just go after them a lot of times," he said.
Gabe Neelsen, 17, is in his second year working the event. After starting as a volunteer for a few weeks last year, this year he has taken a very important role of the doctor in the asylum house — a role that requires him to stay in character and improvise while interacting with people in the house.
He said he has plenty of tricks for dealing with people who are acting tough.
"Stare them down and tell them to watch out for things that aren't there. Get in their head. Play with their psyche. This is my room. I dictate what goes on," he said.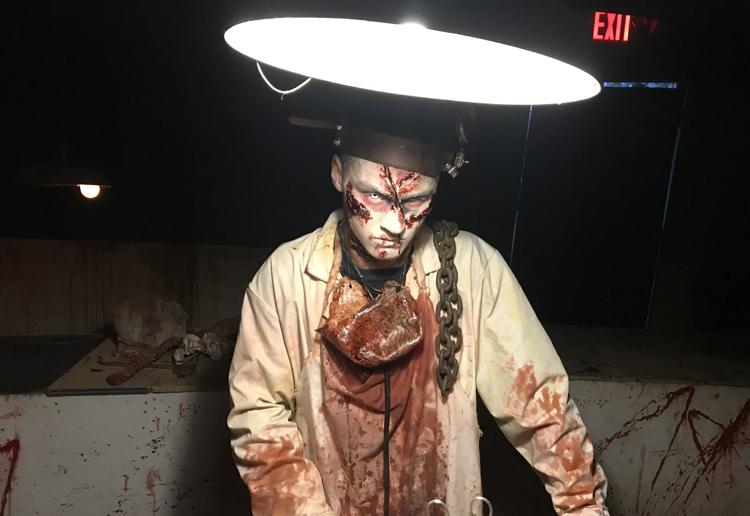 A high school student who also stocks shelves at a local grocery store, Neelsen said he loves the experience.
"I don't even look at it as a paycheck. ... I'm always here for a good time," he said, standing in his designated room while covered in fake blood, doctor tools in his hands, and eerie lighting illuminating the bloody slices that Amanda Turner put on his face.
Austin Turner, 12, jumped right in to his parents' haunted attraction business from the very beginning. Wearing an all black suit, he said his favorite thing is to jump scare.
"I like to crawl. I'm very flexible," he said.
He wants to be an architect when he grows up, and he thinks he could use some of the skills and resources he gets to help his parents continue to grow the operation.
The family already has been collecting props and getting donations for a school-house attraction that they plan to open next summer.
Ayers reports for the Register & Bee. Reach him at (434) 791-7981.