Even after falling through the floor of a burning building, even after carrying deceased victims and even after repeatedly jumping into harm's way to protect his community, Jerome Cook never once has considered quitting in 55 years of volunteering with what now is Mount Hermon Fire & Rescue — a department he helped start in 1963.
Cook, 77, has stopped running calls, but still serves on its board of directors, even though he moved to Brosville nearly 20 years ago.
"We still see a need and we just want to give back," he said.
Cook is one of 26 fire and rescue volunteers in Pittsylvania County who have served for more than 40 years and recently were honored by the board of supervisors. In the county and across the country, the volunteer force is getting older because the younger generations aren't joining at the same rate or staying as long, leaving a depleted, aging force.
"The people are getting older, and we're not seeing a replacement from the younger generation," said Larry Gwaltney, executive director for the Virginia State Firefighters Association.
The number of volunteer firefighters across the county fluctuates significantly from year to year. In 2008, there were 827,150 volunteers in fire departments across the country, according to data from the National Fire Protection Association. It was a national high mark.
A few years later, by 2015, that number had dropped by about 27,000 volunteers. The drop over the next two years was even more dramatic, when in 2017 the nation's fire departments had just 682,600 volunteers. That's a 16% drop in the span of two years.
Chris Slemp, director of emergency management for Pittsylvania County, said there is no central reporting system that would allow him to examine the number of volunteers at each station. He also can't examine the demographic information about those departments, either.
Though the aging and declining volunteer force is affecting the entire country, it doesn't affect every community in the same way. For example, volunteer departments with a community of 2,500 people or fewer to protect had the highest percentage of firefighters age 50 and older. Departments in such communities have 32% of its rosters made up of volunteers in that upper age range.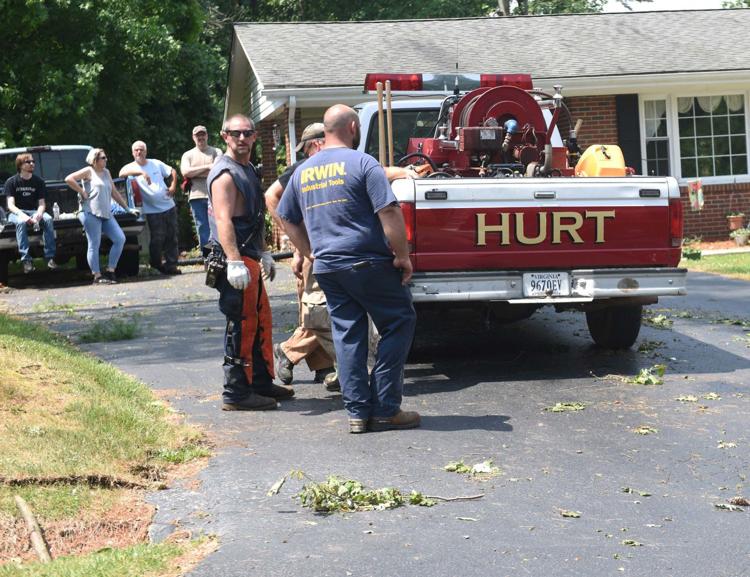 At the same time, fewer volunteer departments protecting communities with a population of between 10,000 and 24,999 have a force with as many firefighters age 50 or older. Departments in such communities have 19% of its rosters made up of volunteers in that age range.
Slemp did say that across the board in the county, the number of firefighters in the volunteer departments are going down and the average volunteer is getting older.
The causes of that decline are multi-dimensional and complex. A steady increase in families where both parents work, and often work multiple jobs — an element that has often been referred to as the gig economy — leaves little time for volunteering in such a time-consuming capacity, Gwaltney said.
Another factor is the general population is aging, and it's more pronounced in rural areas like Pittsylvania County, according to a recent study from the United States Census Bureau.
Since 1980, the overall size of the country's rural population has fluctuated but remained somewhat steady, but the share made up by the older population has increased from 180 million, or 11%, to more than 18%, or almost 300 million, during the period between 1980 and 2016, according to the report.
Mike Neal, fire chief at Ringgold Volunteer Fire and Rescue, remembers when his father helped start the department in 1958. Back then, he said, most of the volunteers were area farmers or running a local "ma and pa shop," which granted them the freedom to help when a call came in.
Over the past decades, the number of farms has continued to decrease while growing larger in size, leaving fewer farmers with the freedom to step in when needed. And the "ma and pa shops" have by and large been driven out of existence.
"Lifestyle has gotten so fast and the economy so big, people don't have time to volunteer," Neal said.
When someone volunteers for a fire and rescue department, they are generally expected to be on-call at all times and take calls whenever available.
That model, Gwaltney said, has been the staple of the volunteer system for more than a century.
Another contributing factor to the decreasing retention rates for newer recruits is their tendency to move from one place to another, said H.F. Haymore, who has volunteered at Mount Hermon for 55 years and continues to run calls as an ambulance driver.
"The younger generation has a tendency to move and change jobs," he said. "Forty years ago, if you were working somewhere and living in a community, you basically stayed there."
While people generally have less time to give, the time committed to volunteering with a department — including training, fundraising and actually taking calls — are steadily increasing.
To obtain Firefighter I certification, the lowest level of certification, volunteers have to complete 160 hours of practical and classroom training. The state of Virginia does not have any hour requirements for different emergency medical services certifications, leaving the specific amount of time up to the educator, but most courses are well above 100 hours and have to be renewed every few years.
In Pittsylvania County, 12 departments have advanced life-saving training and transport certification, meaning they can transport a patient in an ambulance. Another four have basic life-saving certification, which allows certified volunteers to provide the simplest level of medical care to stabilize a situation. Five departments have no EMS certifications at all.
The increase in calls for help is particularly noticeable for rescue, with Slemp calling the volume "ungodly."
Data from the National Fire Protection Association survey shows the annual number of calls nationally has tripled from slightly less than 12 million in 1986 to more than 35 million in 2016.
"EMS is an ever-changing event. It's never the same thing twice," said Dakota Dillard, the EMS supervisor at Gretna Fire and Rescue.
As a result of the increased entry requirements and time commitments, fewer young people sign up in the first place, while the high call volume for EMS volunteers often leads to burnout, veteran volunteers said.
Slemp explained that emergency management personnel from neighboring localities have noted difficulties filling even paid fire and EMS positions.
But money isn't a prime motivation to stick around. It's to make sure the job continues to get done, said Joseph McGuire, 47, who serves as the EMS captain for Cascade Fire and Rescue.
"Who's going to fill the shoes? One day we're not going to be able to run anymore," he said.
Ayers reports for the Register & Bee. Reach him at (434) 791-7981.