When my seven children were growing up, I tried to maintain family traditions that would draw us all closer together in the present and give us a reason to come back together in the future.
I'm not sure how successful I was since the kids laugh and say that most of my traditions are based on mayonnaise. I tried to tweak that tradition many times, but then a grandson who is home for college really, really wants my potato salad on Christmas Day and my son who laughs about the mayonnaise tradition insists on the chicken salad.
What can I say? Mayonnaise is good. And, of course, a tradition doesn't have to be a food-based one, but it seems a lot are.
My sister and I always opened one gift on Christmas Eve after the candlelight service at church when we were young. I did that with my children, and now that tradition has morphed into most of them having a Christmas Eve tradition of opening a gift of pajamas. I still take credit.
What is a tradition anyway?
Traditions are activities that are repeated at a particular time and purpose, according to 4Cforchildren.org. They are a way of "transmitting shared values and goals to the next generation, contributing to the development of both a collective identity and an individual sense of self."
Traditions not only can help children feel a sense of stability and continuity within the family unit, but they are good for individuals, families and communities. Traditions also can help children through rough times as they anticipate events that bring them happiness and peace, the website states.
"Family rituals can help families bond and form a strong group identity and increase each family member's sense of belonging. Often family traditions are thick with cultural and religious beliefs and show what the family values as a whole," said Ruth Ann Ott, a licensed professional counselor in Danville. "Some traditions can help with grieving or loss, some help relieve stress or build coping skills and some can help build self-esteem and a sense of identity."
One family's traditions
My daughter, Mary Susan Jenkins, married into a family full of fun and meaningful traditions that evolved as they moved throughout the world in the military.
Her mother-in-law, Terri Jenkins, said that traditions are the glue in a family.
"All families have traditions whether they plan them or not. So if a family doesn't have purposeful traditions, then their glue is like a glue stick and may not hold their family together," she said. "But purposeful, planned traditions are like super glue holding a family together, even for future generations. All of our children are married and it thrills us when they take traditions that they grew up with, meld them together with traditions of their spouse and together create new glue for their family."
A lot of their traditions are wrapped around yearly events, which gives them something to look forward to.
"And if you don't get it just right one year, you can make plans to improve the celebration for the next year," she said. "That's just it! Traditions help you celebrate life!"
Steve and Terri Jenkins had five children in five different places and moved 13 times to places, so traditions gave them some control over their life when they couldn't control where they lived, how long they would live in one place, or even who their friends might be.
"My children also never knew when their best friends would be moved away from them and everything that they looked forward to every day could not be controlled, except family traditions. So even though there were so many things that our children could not count on, our traditions created events and activities that they could look forward to no matter where we lived and who we had around to celebrate them with. Sometimes we celebrated on airplanes or buses, sometimes in hotels, but always we celebrated each other."
Traveling around the world also gave them opportunities to adopt fun traditions from other countries and broke up the long space between Christmas and Easter — their two biggest celebrations.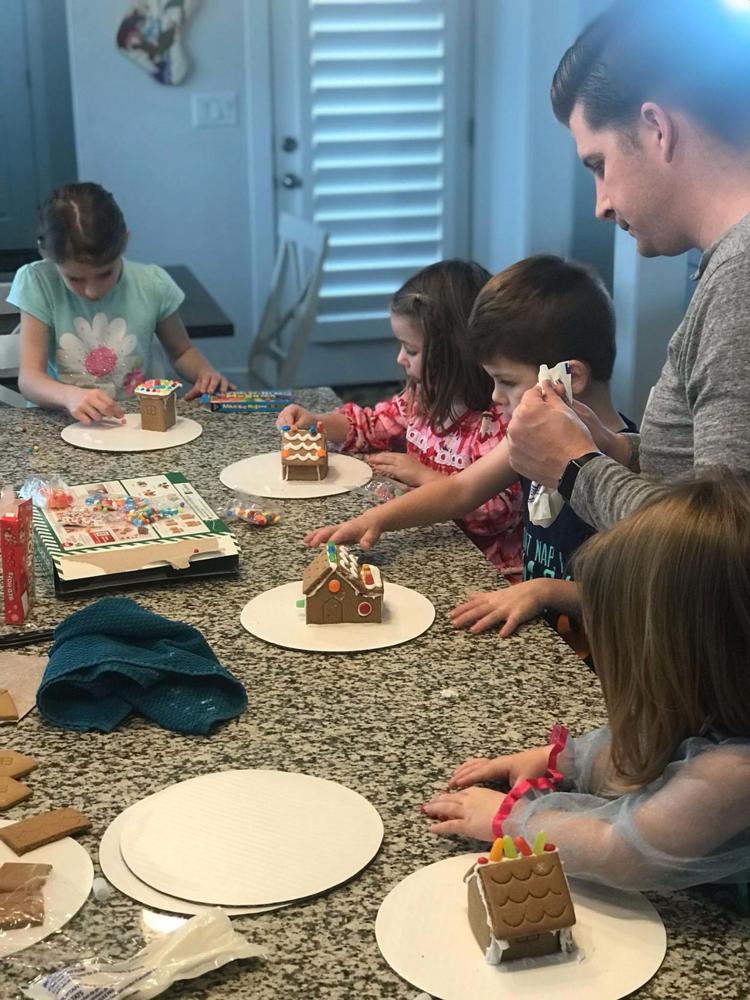 Here are a few of the traditions of the Jenkins family, many which their children still celebrate with their own children:
» A talent show with their family and any guests on New Year's Eve. Then they peel an orange for good luck — a tradition from Terri's mother — and share a penny with a wish for the year. Since one of their sons served a church mission in Portugal they also have added a Portuguese tradition of eating 12 grapes for good luck in the 12 months to come.
» Eating at Burger King and donning paper crowns for Martin Luther King Jr. Day. Bowling usually follows.
» Watching the movie "Groundhog Day" together as a family.
» Valentine's Day lasts all February with plenty of opportunities for members of the family to write love notes to each other, friends and extended family. Valentine's Day meant heart-shaped pancakes for breakfast, heart-shaped sandwiches for lunch and heart-shaped food for dinner.
» March 3 is Hinamatsuri, Girls Day, in Japan, so they celebrated girls with a tea party, manicures and ice cream. Terri now sends packages of crafts, ice cream money or manicure supplies to her daughters and daughters-in-law for them to celebrate with their daughters.
» St. Patrick's Day started with a special song to wake everyone up and then a path of real and chocolate coins to lead them to a breakfast of pancakes, scrambled eggs and orange juice — all green!
» Each year for April's Fool the parents tried to do a trick, such as making dinner look like a dessert or switching breakfast for dinner and vice versa.
» For Easter they hold an Easter egg hunt on Saturday with buttons inside the eggs that can be traded for money or an item, plus egg dying and a bunny cake. On Sunday they re-enact the story of Jesus's final week, then end with a special song and gold fish crackers and honey since Jesus ate fish and honeycomb after his resurrection.
And that's not all the traditions. There's a Japanese Boys Day, celebrations for Mother's and Father's Day, a family barbecue for the Fourth of July and special treats to eat during the fireworks, a back-to-school bash, homemade costumes for Halloween with a haunted dinner, a week of activities to celebrate each birthday, a month of gratitude and the usual feast for Thanksgiving and surprises in shoes for the German St. Nicholas Day on Dec. 5.
Christmas traditions involved choosing a family and giving the gift of a nativity and scripture anonymously throughout several nights, caroling and a Christmas pageant.
When Mary Susan joined the family through marriage, she added a shepherd's dinner to the tradition.
Traditions in blended families
So what's a blended family to do about family traditions? Give up old ones? Start new ones? Or try to meld traditions from two families with no one feeling like they are giving up anything?
John Gottman, head of the Gottman Institute and a psychological researcher who has done more than four decades of research on divorce prediction and marital stability, reports that it takes about five years for a blended family to solidify, Ott said.
An important step in solidifying a blended family is creating and modifying existing family traditions, she said. 
Ruth Ann and her husband, Ed, blended their families after his wife had died from breast cancer and she had gone through a painful divorce, each situation leaving pain and grief. Blending each family's traditions into the new family and creating new traditions was important to them.
"Part of our family traditions consisted of ways that my husband and his children could remember their mother/his wife, such as going on picnics and playing baseball as a family on her birthday. Other traditions helped my children, such as having family dinner together, and participating in family night every Monday. Family night consists of us being together as a family, teaching morals and values through activities, outings, giving service and playing together as a family," she said.
She recalled that the biggest problem the new family faced with traditions was how they decorated for Christmas.
"I liked a more formal-looking decorated tree and my husband and his children liked to decorate very colorfully and with handcrafted items. We solved this problem by everyone getting to pick 5 ornaments that they each wanted on the tree and I put on the base ornaments. We just blended," she said.
She noted that blending requires flexibility. 
"If we can remember that traditions help us form who we are and that we existed before the current relationship, then we can be mindful of what is important to each part of the family," she said. "I believe the most important part of blending and creating traditions is to have a family discussion about what traditions are most important to each person and why.
"Then together the husband and wife can decide how to incorporate what will be most beneficial for the whole. They can preserve what is valued and incorporate traditions to fit the new norm. Over time the family will naturally create new traditions that they can enjoy together."
Starting traditions
Even if members of a family don't feel like they have any traditions, they probably do. Ott said that might seem so natural that they might not be noticed.
"What is the family's religious or spiritual beliefs? How do they incorporate it into holidays or even daily life? What are activities that they enjoy doing on the weekend or on down time? How do they reconnect with each other?" she said. "Some families are active in sports, some in traveling/exploring, some in history or learning, others enjoy arts and music, etc. Things that the family enjoys together are often traditions without even knowing it."
But traditions can also be built consciously.
Ott suggested having a family meeting to discuss what ideas each family member would like to do as a family tradition.
"After the discussion, it would be up to the parents to finalize and create what traditions will be most remembered and cherished within their family," she said.
Other suggestions might be to identify a value that is important to your family and that you would like to promote. If it's gratitude, set aside a time, perhaps at a holiday meal to share what each one is grateful for. If it's service to the community, plan on volunteering at a community event or a shelter.
Families also can revive traditions from their past, such as a certain food that was prominent at a grandparent's table or even the tradition of getting together for a meal on a certain day of the week, month or year. Look to the past to find a tradition peculiar to your ancestor's culture, such as a truly Irish meal on St. Patrick's Day if your family originated from Ireland.
Be aware of the interests of your family in creating new traditions. A camping trip every Fourth of July might not be the best choice for a family who doesn't really enjoy the outdoors, but going out as a family to dinner and an annual Christmas concert might be perfect.
Then be flexible enough to realize that as families grow and change and children grow up, traditions might change also to be more appropriate for the family.
In the end, traditions can be whatever a family wants them to be and suits the situation of the particular family members. By being creative, flexible and dedicated to strengthening the family, both the core family and the extended family, traditions can be a source of pleasure, strength and security as well as provide a treasure trove of good memories for generations to come.