For the ever expanding population of retirees and former mill or tobacco industry workers, the memory of the former Danville may still glow from the recesses of one's mind. For young adults of the infamous millennial generation and younger, the decayed worth of Danville was all they ever knew.
Corey Williams, 25, and Thomas Clark, 26, grew up in communities on opposite sides of Danville, witnessing that devastation of economic upheaval. Clark grew up in Martinsville, where he graduated from Martinsville High School. Williams grew up in South Boston and attended Averett University for his undergraduate degree, which he followed with a Liberty University graduate degree.
They both ventured outside the confines of Southern Virginia following their education. Williams followed up a Danville Regional Foundation internship with a year in Richmond, where he had always dreamed of immersing himself in the arts community.
"I call it my creative gap year. I focused a lot of my time on my writing, my art and my photography," Williams explained.
Clark, meanwhile, relocated to Houston, Texas, which he found to be a great place to live, but he concluded Danville could be home. Plus, proximity to family was important to him.
"It was great. It was just massive," Clark said of his time in Houston. "It was far from everyone which is not necessarily a bad thing, but it was like 18-to-20 hour drive [from home]."
As adults determining their life direction, they were drawn to the revitalized version of the once dormant Danville. Their return to Danville eventually led to their paths crossing when they got hired at American National Bank. They later together joined Rotary After Hours out of love for community and a desire to reach out.
A bond was formed that eventually fostered a business partnership and a whole new drive for their lives. That friendship was founded on their appreciation for Danville, especially the active River District.
"Danville is such a blank canvas you can literally drop seeds and watch it flourish," Williams stated.
The pair has observed the decayed economic landscape they knew from their childhood get shaken off by new development and revitalization of the historic gems of downtown. They noticed an energy shift that rewarded those who cared enough about the community to support it.
"They've revived the mood of the people in the city here," Clark said.
They wanted to get to know their new home with its new atmosphere, and they wanted some after work fun with friends. The park systems and trails proved worthy of their quality reputation. Spots like Virginia International Raceway and 2 Witches Winery also demonstrated why they are counted among the local favorites.
"It's definitely younger. It's definitely more progressive. It's definitely more opportunity for all sorts of projects and people," Williams observed of the evolving Danville personality.
The downtown food scene began opening doors that had been closed for decades with new cuisines and aesthetics. That new air of change and the offerings of Mucho Taqueria and Ballad Brewing and other spots drew in Williams and Clark along with a growing crowd of new locals.
"The overall vibe, the mood, the people of the city here, it's all very positive," Clark said.
The exploration of the Dan River Region lifestyle began to spark possibilities for work. The incidental networking connected them with like-minded residents who were falling in love with Danville while also seeing opportunities to love the area even more.
"We began to see we can bring some value to these businesses while still bringing out art and culture," Clark explained.
It was not long before they developed Rivertown Creative Agency as an online showcase of all things arts and culture in Danville. People, places and events were all highlighted with a fresh perspective, giving voice to a sometimes overlooked population group in the area — 25 to 40 year olds. A year in, their work was picking up momentum and prospects were multiplying.
"We travelled the region, uncovering amazing stories of revitalization and really cool things going on here. We covered all sorts of shows, concerts and even Rooster Walk," Williams said, remarking on the excitement of getting media passes and contributing to the success of region offerings.
The entrepreneurial duo began to see they could do more than just support events and community players. They realized they could raise the level of attention and attendees for these area happenings. They started offering full creative marketing services. The transition was smooth and almost unintentional as the need and opportunity fell into place with the right circumstances.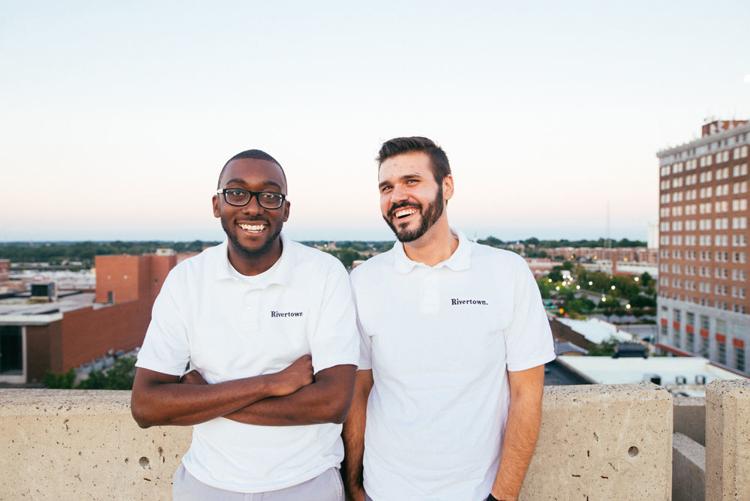 "I could tell it was getting ready to grow huge," Williams said. "It got to where we started doing events and things. That's what really caused a shift."
As the business gets settled into its newest stage, Clark and Williams are building up their client base with confidence in Danville as its best headquarters. With clients on retainer and new ones coming from a wider territory joining, the duo has recruited a third employee to help cover their workload. The support they receive is the No. 1 reason doing business in Danville is right for them now.
"Failure isn't really an option in a way," Clark said not out of dramatics but because of the significant support they feel.
Operating with a contemporary and mostly portable business model, Rivertown Creative Agency has cut costs to a minimum. They do not need an office space and easily accomplish their tasks in any cafe or home office space with an Internet connection.
"The amount of risk it takes can only be worth it," Clark said.
Williams added their marketing house services are all encompassing whereas most services are fragmented across multiple providers.
"There's very little competition. There are virtually no other businesses doing it," Williams observed.
Striking out on their own has been rewarding so far but the challenges do exist. They hope their company's growth will contribute to the community reshaping its focus and makeup to be more diverse and younger. They are optimistic the business sector will likewise find a more flexible and contemporary form by catering to more unique business models like Rivertown Creative Agency's smaller, on-the-go operation.
As they get more acquainted with the city and its needs as business owners and as residents, the duo hopes that leadership also will be more of a means of promoting growth. For now, Clark and Williams seem to be most interested in finding others who are just as in love with Danville as they are. They keep busy joining friends and colleagues at area events and always plotting on what's next for Danville and themselves.
"All day, all evening — our time is spent doing something for Danville," Clark said.
Both credit their civic organization volunteering as giving them a different perspective on how to live and love where you live, be it for business or for the fun of it.
"It's like a lifestyle now. How can I improve it? What can I do for Danville now?" Williams said.