Danville officials hope a planned pocket park for South Union Street downtown will be a small getaway for visitors and residents looking for a place to sit and relax.
Downtowns are typically dense with lots of buildings close together, as well as sidewalks, streets and other "hard" elements of a cityscape, said Corrie Teague Bobe, acting director of economic development for Danville.
A pocket park with green space and other amenities can offer a contrast.
"It provides a softscape," Bobe said.
This planned pocket park would fill space left by one of the buildings that was part of plans for a boutique hotel on South Union Street. The structure had to be demolished because it was deemed unsafe.
The building's condition forced the 42-suite hotel project to move from 119-121 and 123 S. Union St. to 115-117 and 123 S. Union St.
This relocation would horseshoe the hotel around the pocket park.
But what exactly is a pocket park? It's a small outdoor space, usually no more than a quarter of an acre and only a few house lots in size or smaller. It's most often located in an urban area surrounded by commercial buildings or houses on small lots that have few places for people to gather, relax or enjoy the outdoors, according to the National Recreation and Park Association in Ashburn.
Pocket parks can act as small event spaces, play areas for children, or places for relaxing, meeting friends or taking lunch breaks, according to the association.
For example, Spartanburg, South Carolina, has at least two pocket parks, with one sitting between two historic buildings housing a coffee shop and a wine store, respectively.
It's mostly brick with a little bit of landscaping where people can stop and eat or enjoy a cup of coffee, said Mitch Kennedy, assistant city manager for Spartanburg.
"It's a cool little spot," Kennedy said, adding events, presentations and announcements also take place there.
The second pocket park features a nine-hole miniature golf course — free to the public — sandwiched between a pair of multi-storied brick buildings and an open-air restaurant and is a popular spot, he said. Putters and golf balls can be borrowed from local businesses.
The one on Danville's South Union Street would cover about a tenth of an acre and include a fountain and tables where people can eat, Bobe said. An 1800s granite wall will be exposed and the park will be below the street's surface. There will be steps and an elevator for accessibility under the Americans with Disabilities Act. she said.
City officials still are working to determine how much the pocket park would cost, Bobe said. Funding for the project will be considered at the next meeting of the Industrial Development Authority, which owns the space where the pocket park would be, in March.
The River District Design Commission approved a certificate of appropriateness for the pocket park last week.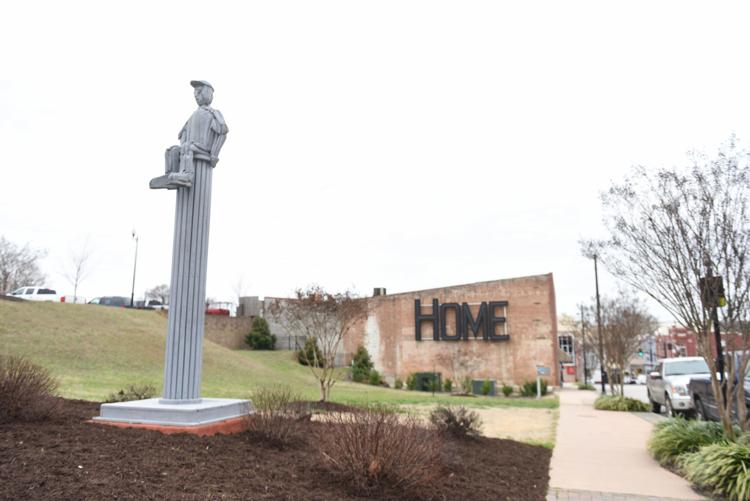 It would not be the first pocket park for Danville, however. There is a temporary pocket park at the site of the former Downtowner Motor Inn at Main and North Union streets, overlooked by the "Home" sign.
The green space there has been a positive for the city, said George W. Davis III, chairman of the River District Design Commission.
"It benefits the city because the structure that was there was never going to be used again," Davis said Monday. "It was pretty much an eyesore. Now it's an area that can be used by anybody who wants to stop by."
The "Home" sign was installed at the corner of Main and Union streets in March 2016. History United partnered with the River District Association and the Danville Historical Society to restore the letters. They chose that word to make people think about what their Danville home means to them.
The sign has a history going back to 1947. Built of steel and completely custom-made, the letters and its frame sat on 10 columns atop the White Mill.
It was Dan River Inc.'s second sign, weighing in between 5 and 6 tons. Originally, there was a sign that read, "Dan River Cotton Mills" with the company logo that was mounted on the roof of No. 1 Mill in Schoolfield. It was later converted to say "Home of Dan River Fabrics."
Danville Public Works and Danville Parks and Recreation maintain, landscape and install art at the pocket park.
Crane reports for the Register & Bee. He can be reached at (434) 791-7987.