In Pittsylvania County, nine solar farms have obtained the necessary zoning permits to cover 3,500 acres and produce over 350 megawatts of renewable energy.
The continued development of solar projects throughout Virginia is only slated to continue. This week, the Virginia House and Senate passed different versions of the Virginia Clean Economy Act, which would require utilities and competitive suppliers to generate 100% of their energy from renewable sources by 2050.
Over the last few years, Virginia has promoted the development of utility-scale solar farms with incentives and tax exemptions to match, leading to a significant amount of operational projects with many more still in the development stages.
Despite increased real estate taxes from the projects, many localities are unhappy with the state-mandated tax exemptions on machinery and tools on these projects. In Pittsylvania County, the story is no different.
"We're talking about serious serious revenue that this county is forfeiting so that Northern Virginians can feel good about having green energy," said Pittsylvania County Administrator David Smitherman.
In the Virginia General Assembly, a flurry of bills regarding the generation of clean energy have been heard in both houses with a variety of different outcomes ranging from nixing the tax exemptions next year to extending them through 2030 to creating a new revenue-sharing process.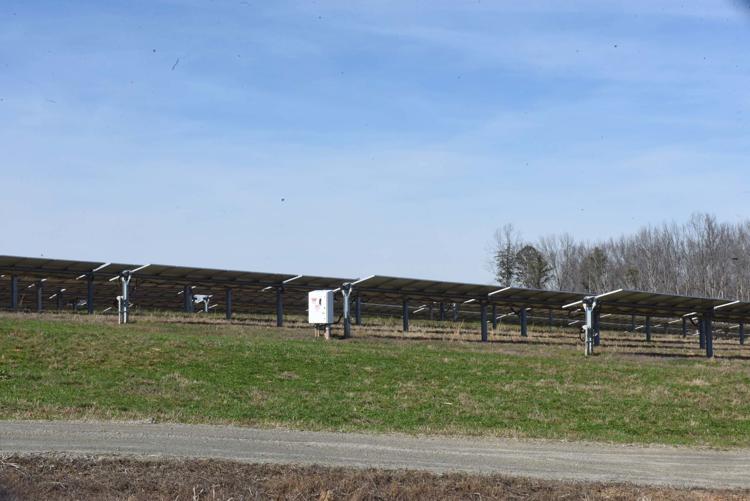 Development For those involved in moving solar projects from start to finish, there are a wide array of business models. Sometimes, a developer will arrange some of the plans and obtain necessary permitting before selling the rights to another company.
For instance, Texas company Open Road Renewables obtained necessary county zoning permits and developed the plans for the Maplewood Solar project: a 120 megawatt solar farm just 7 miles northwest of Chatham. In November, Dominion Energy announced it was purchasing the rights to that facility and will move the project through the rest of the development phase. Then in January, tech-giant Amazon and Arlington County agreed to purchase the power produced from the project, which was recently renamed Amazon Arlington Solar Farm Virginia, from Dominion.
"Part of our success in growing our solar footprint in Virginia has been driven by innovative partnerships with large customers where we can build dedicated facilities to meet their renewable energy needs," Samantha Moore, Dominion spokesperson, wrote in an email. "These partnerships are vital drivers of the market for renewable energy."
In other instances, a developer will complete a project before selling it, or keep it and sell the generated power itself. For all of these projects, developers must agree to a 17-part ordinance from Pittsylvania County, which covers visuals, erosion and sediment control, as well as a bond to cover decommission costs.
In addition to local approval, projects must get an OK from the Virginia Department of Environmental Quality. Between 2018 and 2019, the Virginia DEQ approved applications for 28 Virginia projects, said Mary Major, who works in the permitting office for renewable energy with the department. In October, Gov. Ralph Northam announced notices had been received for 70 more projects statewide.
So far in Pittsylvania County, there is only one operational solar project: a 6 megawatt solar farm in Kentuck, which sells energy to Danville Utilities. Two more — which will generate 10 and 12 megawatts, respectively — will be connected to Danville Utilities. Between those three, Danville Utilities aims to generate 8% of its power needs through solar, said Jason Gray, director of Danville Utilities.
The solar projects popping up all over the state provide energy for mammoth companies — such as Amazon and Dominion — as well as Arlington County and the Virginia government.
Jonah Fogel, program manager for the Environmental Resilience Institute at the University of Virginia, has been closely following the changing policies around the solar industry in Virginia. The simultaneous push for renewable energy from companies like Facebook and Amazon — both of which have agreed to purchase energy from solar projects in Virginia — and the state have combined to create a rapidly expanding industry.
"It's just sort of a sweet spot," he said.
One of the main reasons developers and energy providers are flocking to solar is because it's a cheap source of energy.
"Solar is cheaper than what market is, especially if we can provide it at a local level that's connected to our distribution system," Gray said.
The continued research into climate change, which experts say largely is attributed to carbon emissions and is causing rising surface and water temperatures and shrinking ice caps near the north and south poles, is another reason that major corporations and governments are seeking green energy options.
"I think we all stand something to lose by not advancing a low carbon fuel source," Fogel said.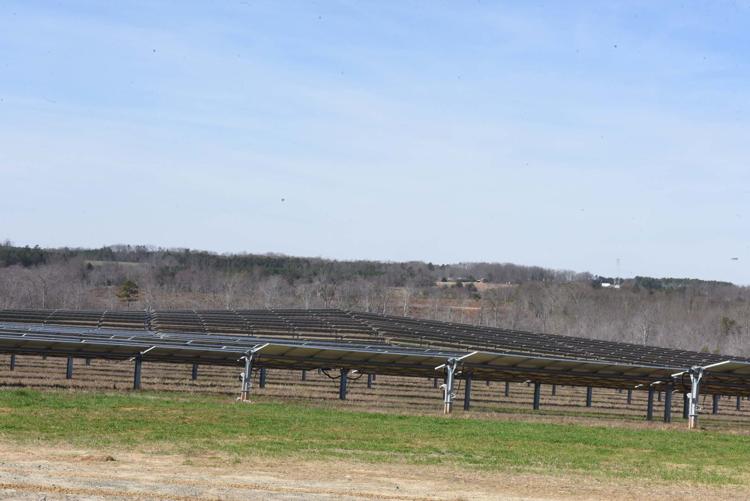 Taxation While nine solar projects have received the necessary permitting to operate from Pittsylvania County, blanket, state-mandated tax exemptions leave few tangible benefits in the county.
Under the current legislation, which has been in place since 2016, Virginia solar projects with an energy capacity of less than 20 megawatts are entirely exempt from machinery and tools taxes. Those larger than 20 megawatts are still 80% exempt. In Pittsylvania County, the machinery and tool tax is 45 cents per $100 in assessed value.
While the maintenance costs are minimal, solar projects have high capital costs associated with installation which was why Virginia legislators implemented the tax exemptions. As currently scheduled, those exemptions are scheduled to last until 2024, but all projects built before that time will be exempt for the projects' lifetime.
Determining the exact amount of money that Pittsylvania County would lose as a result of these tax exemptions is difficult, since there is only one operational solar project: the Kentuck Solar Farm. It has a capacity of less than 20 megawatts — meaning it is entirely exempt — and therefore doesn't report the value of machinery and tools, said Pittsylvania County Commissioner of Revenue Robin Goard.
According to data from the Virginia State Corporation Commission, utility scale-solar projects are valued at roughly $1.3 million per megawatt of generation capacity. Using those numbers and the machinery and tool tax, a 120 megawatt project in Pittsylvania County would generate $140,000 in machinery and tool taxes with the 80% exemption. Without the exemption, that number would be more than $700,000 annually.
Of course, that taxation value would only decrease over time. The Virginia State Corporation has a depreciation schedule for utility-scale solar. For the first five years, projects greater than 25 megawatts are taxed at 90% of their value, but by year 25 they are down to only 10% of the value.
"We're only getting 20% of that 10%," said Scott Simpson, county administrator for Halifax County, where six utility-scale solar projects have received local approval.
While the inability to tax these large, utility-scale projects represents a loss of revenue, Virginia localities are benefiting from increased real estate taxes. For the Kentuck facility in Pittsylvania County, the land value changed from $1,170 per acre when it was agricultural use to $11,000 now that it is industrial use as a solar farm, according to numbers from the commissioner of the revenue's office. That is an increase of more than six times.
The three projects that have obtained all county and state permits in place — which total 28 total megawatts of capacity — would generate roughly $20,600 combined in annual real estate taxes, Goard said.
To the east of Halifax County, Charlotte County has approved applications for three different solar projects, ranging in size from 5 megawatts to 150 megawatts.
"With the depreciation and the way this is all calculated, the loss to the county is significant," Charlotte County Administrator Dan Witt said.
While the tax exemptions and depreciation structure do limit revenues for localities, the solar company in Charlotte County has provided other benefits. The smaller projects made one-time donations to the county, while the 150 megawatt project, which is now owned by Apex Clean Energy, provided nearly $1.5 million toward a new E-911 communication system as part of an impact fee, while also voluntarily waiving almost $3.6 million of its permitted tax exemption.
In Pittsylvania County, no impact fees have been offered, Smitherman said.
The federal government also offers a solar investment tax credit, which is also known as the Federal Solar Tax Credit. The credit, which doesn't have a maximum value, allows companies and individuals to deduct 26% of the installation cost from federal taxes. That number is scheduled to gradually decline to 10% over the next few years.
Solar projects in Pittsyvlania County
| Name | Location | Megawatt capacity* | Estimated installation cost | Acreage |
| --- | --- | --- | --- | --- |
| Amazon Arlington Solar Farm Virginia | Chatham | 120 | $130 million | 1,200 |
| Axton Solar/Caden Energix | Axton (Henry and Pittsylvania Counties) | 66 | $45 million | 130 in Pittsylvania County |
| Whitehorn Solar | Gretna | 50 | $70 million | 700 |
| Michaux Solar | Cascade | 50 | $60 million | 900 |
| Sycamore Solar | Gretna | 42 | $50 million | 500 |
| Strata Solar | Ringgold | 12 | $20 million | 110 |
| Whitmell Solar | Chatham | 10 | $15-20 million | 80 |
| TPE Kentuck Solar, LLC | Kentuck | 6 | $10 million | 77 |
| Roark Mill Solar | Hurt | 3 | $3.5 million | 20 |
| | | *One megawatt can power roughly 240 homes. | | |
LegislationSeveral different bills were presented in both houses of the 2020 Virginia General Assembly concerning the taxation and encouragement of solar development. Those projects already under construction or operational before any of these bills come into effect would not be effected.
The proposed changes are across the gamut. Several seek to extend the mandated tax exemptions through 2030. Two seek to gradually decrease the percentage of exemption over five year intervals. Another bill, which was killed in committee, proposed moving the expiration date of the tax exemptions back to 2021.
A legislative group that represents every Virginia county, the Virginia Association of Counties, believes the taxation decisions should be for Virginia local governments to make and opposed the extension of the exemptions.
"The extension of a mandated subsidy from local revenues will result in significant loss of future revenues that would otherwise be utilized to fund state-mandated services such as education, public safety and human services," said Joe Lerch, director of local government policy for the Virginia Association of Counties.
On the other end, proponents of the utility-scale solar construction industry already are looking to push that exemption another six years to 2030, arguing that the exemptions are necessary for the continued development of the energy resource.
"If that tax incentive was not in place, you could not have the had the kind of development that was necessary," said David Murray, executive director of the Maryland-DC-Delaware-Virginia Energy Industry Association.
Another bill would allow localities to replace the machinery and tools tax with an energy tax of $1,400 per megawatt of capacity.
"This is the flagship bill that we worked out with the localities," Murray said.
This method would differ in effectiveness and revenue generated depending on the size of the project and the local tax rates, Lerch said. The change in revenue would be minimal in the beginning, when the projects are assessed at close to full value. But over the lifespan of the projects, this bill would allow for more consistent taxes that didn't decline over the project's lifespan, Murray said.
"The revenue is flat over time," he said.
Once every proposed solar project in Pittsylvania County is operational, the energy tax would net nearly $500,000 annually.
When the tax policies for Virginia solar projects were arranged, they were beneficial and useful, Fogel said. But as is the case with all public policies, they need to be re-evaluated every few years at least to ensure that they still are mutually beneficial and fair for all parties involved, Fogel said.
"You want to make sure that that balance is correct," Fogel said.
Ayers reports for the Register & Bee. Reach him at (434) 791-7981.