Main Street Coffee Emporium, a popular downtown gathering place for years, closed its doors for good Friday.
"It just seemed like the right time," owner Leisa Royster said Sunday. "It was time to just go ahead and put the 'closed' sign on the door."
Numerous businesses have closed temporarily due to declining sales following a ban on gatherings of 10 or more people and a stay-at-home order in Virginia. But Royster had been planning on shuttering her business before the coronavirus pandemic.
She hoped to close June 30. But the coronavirus and its economic fallout sped up the process. She didn't want to temporarily cease operations now only to open back up and close again for good a month or so later, Leisa said.
She hopes someone will buy the coffee shop and re-open it.
"After 18 and a half years, we were ready to pass the reins to someone else," Royster said. "Hopefully, the legacy would continue. That would be our goal."
Corrie Teague Bobe, Danville's interim director of economic development, pointed to the business' longtime presence in the city that predated revitalization of the River District.
"They have been able to develop a very loyal customer base and drive traffic into our River District even before redevelopment efforts began," Bobe said. "Main Street Coffee Emporium was the gathering place for business meetings or casual conversations with friends."
It was many years ago when Leisa's husband, Matt Royster, and a friend went to grab a cup of coffee at Main Street Coffee Emporium — which had operated under previous owners before the Roysters and another couple bought it in 2001 — only to see it had closed and was for sale.
"He came back and said, 'what would you think about buying a coffee shop?'" Leisa recalled.
Main Street Coffee Emporium, which had first opened in the early 1990s, re-opened the day after Thanksgiving in 2001. That was nearly 18 1/2 years ago.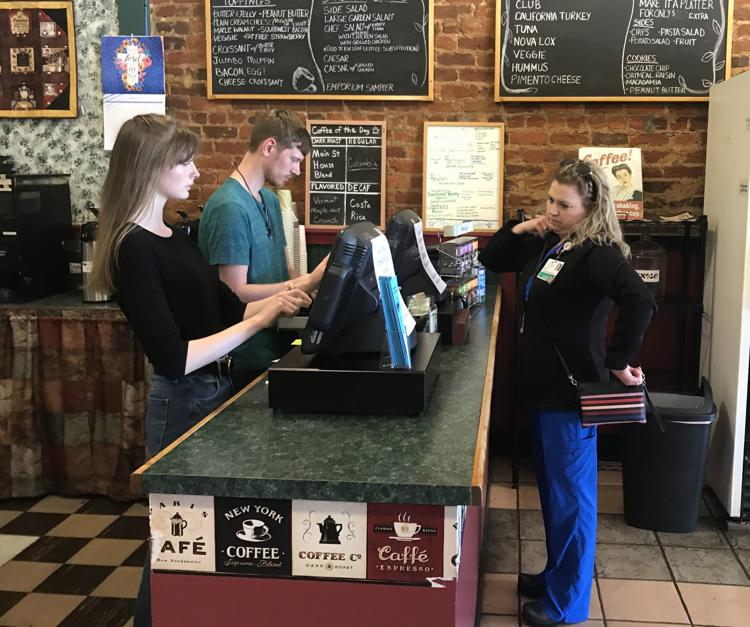 The other couple would eventually sell their share of the business to the Roysters and Leisa would later become sole owner. Matt, a truck driver, continued to do bookkeeping and repairs at the coffee shop.
For a long time before the growth of the city's River District and after, it was the go-to place where customers could chat with friends and enjoy sandwiches, cappuccinos and a variety of other items.
For the Roysters, Main Street Coffee Emporium was family, not only among the owners and its customers but for employees. Three of the Roysters' four children had worked there over the years.
"It's going to be quite a change for everyone," said daughter Rachel Royster, 25, who worked there since she was 14. "I've grown to love a lot of customers there."
As for what she will do next, the possibilities are endless. She may go to college or travel. She would also like to move to Armenia and do volunteer work.
On Friday, Leisa Royster and her employees rushed to handle an onslaught of customers who put in one last order before she shut the doors for good that day.
She will miss the employees and customers.
"I've cried for days now. We developed a lot of good and very deep friendships," she said. "Saying goodbye to everybody was really hard."
Bobe pointed to the loss of what had become something of a Main Street institution.
"We will miss the warm smiles behind the counter and the comforting smell of coffee beans roasting in the air," Bobe said. "We wish them the best of luck in their next chapter."
Crane reports for the Register & Bee. He can be reached at (434) 791-7987.